Julianne Moore launches Hollywood gun safety campaign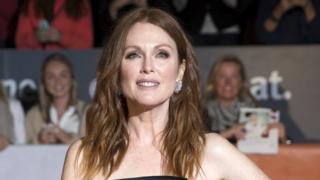 Oscar-winning actress Julianne Moore has launched a gun safety campaign with 80 other celebrities.
Jennifer Lawrence, Reese Witherspoon, Kim Kardashian West and Steve Carell are among the stars who have signed up.
Moore said she and her colleagues were "shocked and saddened by the loss of life, and the daily increase of gun violence in our beautiful country".
The group aims to mobilise voters to support measures such as enhanced background checks for gun buyers.
Moore will chair the new group, named The Everytown Creative Council, which is affiliated with Everytown for Gun Safety, a grassroots community campaign which has three million members in the US.
'I've got to do something'
Moore told People magazine she was inspired to take action after being horrified by the 2012 Sandy Hook Elementary School shootings, in which 20 children and six adults died.
"I was like, 'I've had it,'" she said. "I said to my husband, 'I've got to do something. This is the one thing that I need to say something about. This is my responsibility as a parent.'"
The actress said she went through her address book alphabetically to ask who wanted to be involved.
The 80 Hollywood stars have signed a pledge that reads: "By signing our names to this statement, we commit to use our creativity and visibility in the months ahead to help drive real change.
"While these are just the first steps, we pledge to use our voices wherever and whenever we can, doing our part to help mobilise more Americans to help save lives from gun violence."
Members of the council will invite their fans to get involved and participating in Everytown events, including brainstorming new approaches to grow the gun violence prevention movement.