Three Dog Night singer Cory Wells dies, aged 74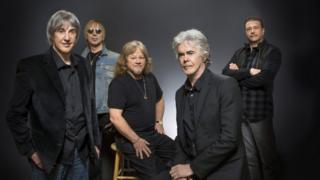 Singer Cory Wells from the 1970s US band Three Dog Night - known for hits such as Mama Told Me (Not To Come) and Joy To The World - has died aged 74.
Wells died in his home town of Dunkirk, but the cause of death is unknown, Universal Music's Sujata Murphy said.
Wells was one of three vocalists in the band, whose signature sound mixed the traditions of gospel with rock.
"Cory was an incredible singer - a greater performer. He could sing anything," said bandmate David Hutton.
Writing on the band's website, Hutton said: "Cory was like a brother in so many ways. We had been together since 1965 and I am in shock at this sudden loss."
Wells had continued to perform with the band until September, when he began to have severe back pain, Hutton said.
News of Wells's death prompted tributes from the world of music, including Motley Crue's Vince Neil, who called the singer a "man with inspiration".
He tweeted: "You will be missed but your music will live on in our hearts and souls."
Three Dog Night was formed in the late 1960s by Wells, Hutton and Chuck Negron, taking its name from an expression in Australian slang for a bitter cold night.
They later took on keyboardist Jimmy Greenspoon, bass player Joe Schermie, guitarist Mike Allsup and Floyd Sneed on drums.
The band worked with a number of aspiring songwriters who would go on to become major names in the music industry, including Elton John and Randy Newman.
Their most notable hit, Newman's Mama Told Me (Not To Come), went on to reach number one in the US and number three in the UK in 1970. A cover version of the track, sung by Tom Jones and Stereophonics' Kelly Jones, reached number four in the UK charts in 2000.
Other hits for the band included One, written by Harry Nilsson, Eli Comin' by Laura Nyro and Leo Sayer's The Show Must Go On.
Their particular vocal style, drawing heavily from the expansive sound of gospel, led Village Voice music critic Robert Christgau to dub them the "Kings of Oversing".
From 1969 to 1975, the band achieved 21 consecutive US top 40 hits and had 12 gold albums.
The band broke up in the mid-1970s and reunited briefly in the early 1980s.
Polish-American Wells was born Emil Lewandowski in Buffalo, New York.
He joined the Air Force after leaving high school and performed in local groups after returning from military action.
He moved to Los Angeles in the mid-1960s and performed with the house band for the popular club the Whiskey A-Go-Go. There he met Hutton, who was then a writer and producer with Hanna-Barbera Records.
Wells and Three Dog Night continued to record and tour, in various incarnations, right up to the present day.
Wells's death comes seven months after keyboardist Greenspoon died of cancer. He is survived by his wife, two daughters and five grandchildren.