Adele's Hello tops UK singles chart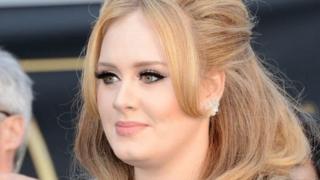 Adele's Hello has become the biggest-selling number one song in three years.
The singer made a much-trumpeted return to the limelight last week when she released the first track from her forthcoming album, 25.
Hello had combined sales of 330,000, the biggest opening week since X Factor winner James Arthur's Impossible in 2012, which sold 490,000 copies.
Australian band 5 Seconds of Summer landed their first number one album with Sounds Good Feels Good.
Aside from the young band, the top five album chart is made up of music veterans - with Bryan Adams, Andrea Bocelli, Paul Heaton & Jacqui Abbott and Daniel O'Donnell all scoring high new entries.
Adele is no stranger to breaking records. Her last album, 21, went on to become the biggest selling record of the 21st Century, shifting more than 30 million copies worldwide.
Her first two albums have also returned to the top 40 this week following promotion for her single.
This is only Adele's second number one single, after 2011's Someone Like You.
Justin Bieber's lastest single, Sorry, entered the chart at number two, just weeks after his track What Do You Mean was at number one for three weeks. The track is still in the top 10, at number seven.
Drake's Hotline Bling is at number three, while Sam Smith's Bond song Writing's on the Wall is at four, followed by The Weeknd's The Hills.
Top five UK singles
1) Hello
Adele
2) Sorry
Justin Bieber
3) Hotline Bling
Drake
4) Writing's on the Wall
Sam Smith
5) The Hills
The Weeknd
Top five UK albums
1) Sounds Good Feels Good
5 Seconds of Summer
2) Get Up
Bryan Adams
3) Cinema
Andrea Bocelli
4) Wisdom and Laughter Lines
Paul Heaton & Jacqui Abbott
5) The Hank Williams Songbook
Daniel O'Donnell