Crossroads creator Hazel Adair dies, aged 95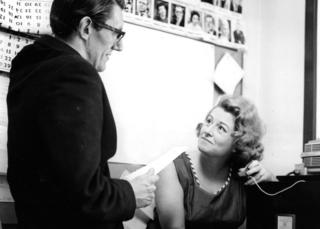 British soap opera pioneer Hazel Adair, who helped create Crossroads, Compact and the UK's first daily soap Sixpenny Corner, has died aged 95.
She created Crossroads with Peter Ling, based in a motel in the fictional village of King's Oak near Birmingham, in 1964 for ITV company ATV.
It was watched by 18 million viewers in the 1970s, but was axed in the 1980s.
The soap ran for 24 years despite some criticism of outlandish storylines, rickety sets and bad acting.
Granddaughter Cate Mackenzie told the BBC that Adair had died peacefully in her sleep over the weekend. She had spent two years living in a home and her health had gone downhill recently.
Groundbreaking characters
Adair and Ling also created Compact, the first British serial to feature a regular black character - a photographer called Jeff Armandez, played by Horace James.
Adair was born Hazel Willett in Darjeeling, India but came to Britain with her parents when she was nine months old. Her parents divorced when she was two and she saw her mother struggle and wanted to be independent.
Compact also featured an unmarried mother as a character who Adair had to fight BBC bosses to keep in the show, her granddaughter revealed.
However Ms Mackenzie said her grandmother would never have described herself as fighting the woman's corner - she just wanted to tell real stories.
Adair began her career acting before marrying Gordon Mackenzie, a rancher from Brazil in 1940. They divorced in 1949 after having a son, Colin.
During the war, Adair worked as an ambulance driver, which inspired her 1983 novel Blitz on Balaclava Street, written under the pen name Clare Nicol. She also had small roles in the film My Brother Jonathan (1948) and the BBC television drama Lady Precious Stream (1950).
In 1950, she married Ronald Marriott, an actor-writer who later produced and directed television programmes.
ITV's first soap opera
After writing on BBC children's programmes At Your Service, Ltd and Stranger from Space in the early 1950s, she worked on radio serial Mrs Dale's Diary with Jonquil Antony.
The pair went on to create ITV's first soap opera, Sixpenny Corner, which ran from 1955-56 and revolved around a rural garage run by the newlywed Nortons.
Crossroads, which starred Noele Gordon in the lead role of Meg Richardson, was created four years after the start of Coronation Street and ran daily from Monday to Friday from November 1964.
It began in the ATV Midlands region, before being taken up by other areas over the next eight years.
Two attempts to revive the show in 2001 and 2003 failed to find an audience, but Adair's involvement had ended in the late 1970s.
Adair's other writing credits included the hospital serial Emergency - Ward 10, on which she scripted one of UK television's earliest interracial kisses in 1964 - four years before the first on US television between Kirk and Uhura in Star Trek.
She also co-wrote the spin-off film, Life in Emergency Ward 10 and the 1961 comedy Dentist on the Job and in the late 1960s co-wrote Champion House, a BBC drama series about a family-run textile firm.
Adair also wrote for women's magazines including Woman's Own, which inspired the twice-weekly soap Compact (1962-65) set in the world of magazine publishing.
She later set up Pyramid Films with Kent Walton and produced sex comedies such as Virgin Witch in 1972 and Keep It Up Downstairs in 1976, using Elton Hawke and other pseudonyms.
Adair also made 1979 thriller Game for Vultures, starring Richard Harris and Joan Collins.
Her second husband Marriott died in 1972 and Adair is survived by first son Colin and the children of her second marriage, Charles, Craig, Carol, Janet and Maria, 11 grandchildren and eight great-grandchildren.