Six Million Dollar actor Martin E Brooks dies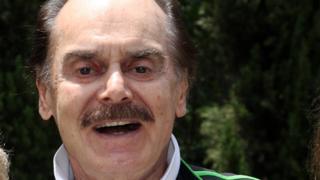 Actor Martin E Brooks, who starred in The Six Million Dollar Man, has died at the age of 90.
Brooks played scientist Dr Rudy Wells in the 1970s TV series, as well as roles in The Bionic Woman and Dallas.
Jon Landau, a film producer and friend of Brooks, said he died of natural causes in Los Angeles.
"Marty was the eternal optimist. He only looked at the good things in life," said Landau, the producer of Titanic and Avatar.
Brooks' other credits included The Philco Television Playhouse in the 1950s, Combat! in the 1960s and Knots Landing in the 1990s.
He also played Dr Arthur Bradshaw on the ABC daytime serial General Hospital.
Landau said Brooks was proud of his stage work that included An Enemy of the People and I Am a Camera.