Downton Abbey beats EastEnders in Christmas ratings battle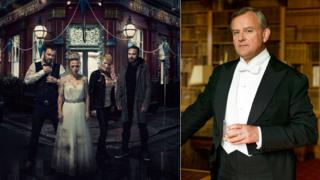 The final episode of Downton Abbey was watched by 6.6 million viewers, beating EastEnders in a Christmas Day TV ratings battle, figures show.
But the Queen's speech, broadcast on BBC and ITV, was the most watched programme of the day, with a combined audience of 7.2 million.
An hour-long EastEnders episode went head-to-head with the last two-hour instalment of ITV's period drama.
The BBC One soap was seen by 5.7 million viewers.
Set on New Year's Eve 1925, fans of Downton, a saga centred on the aristocratic Crawley family, watched as Lady Edith finally got her happy ending, Lady Mary found out she was pregnant and Anna and Mr Bates welcomed their first child.
TV critics gave it mixed reviews - some found it to be "a shot of pure tinsel", others a "long, dreary" affair. Either way it was, lamented one, "the end of a TV era".
An ITV spokesman said it was the first time a Downton Christmas special had topped the UK ratings on Christmas Day.
Last Christmas, EastEnders won with a consolidated audience of 8.6 million. Julian Fellowes' Downton Abbey, in contrast, was seen by a total of 7.7 million.
That compares with the first Downton Abbey Christmas special in 2011, which drew a consolidated audience of 12.1 million.
Unlike overnight audience ratings, consolidated figures take catch-up services into account. It can take several days for the total audience figures to be collated.
Other popular entertainment programmes on Christmas Day were the Strictly Come Dancing Christmas Special, Mrs Brown's Boys and an animated telling of children's book, Stick Man.
---
Christmas Day ratings: Top 10
The Queen (BBC One/ITV) 7.2m (6.1m on BBC One and 1.1m on ITV)
Downton Abbey - The Finale (ITV) 6.6m
Strictly Come Dancing Christmas Special (BBC One) 6.5m
Mrs Brown's Boys Christmas Special (BBC One) 6.4m
Stick Man (BBC One) 6.4m
Call The Midwife (BBC One) 5.8m
Doctor Who (BBC One) 5.8m
EastEnders (BBC One) 5.7m
Coronation Street (ITV) 5.6m
Brave (BBC One) 5.5m
(These figures exclude repeats and +1 catch up channels)
---
EastEnders writers staged a shock car crash involving the Mitchell and Beale families in their bid for the Christmas Day audience.
Other offerings around the 20:45 time-slot were Darcey Bussell paying homage to her Ballet Heroes on BBC Two and Alan Carr's Chatty Man on Channel Four.
ITV also offered viewers extended, hour-long editions of both Emmerdale and Coronation Street, which was watched by 5.6 million viewers.
The BBC has scheduled two festive episodes of Mrs Brown's Boys - the first of which was seen by 6.4 million people.
The madcap comedy has topped the overall Christmas Day TV ratings for the last two years, pulling in 9.7 million viewers in 2014.
BBC One controller Charlotte Moore said: "BBC One brought the nation together with a distinctive range of programmes on Christmas Day and eight of the top 10 most popular shows."
Other Christmas television treats included Billionaire Boy, The Great Barrier Reef, Still Open All Hours, David Beckham special, And Then There Were None, Dickensian and Sherlock, she added.