John Cleese revives Basil Fawlty for TV advert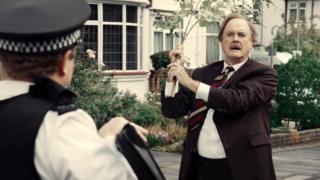 John Cleese has revived his famous hotelier Basil Fawlty for a TV advert, 36 years after Fawlty Towers ended.
Cleese has recreated the 1975 scene in which a frustrated Fawlty berated his broken down car before giving it a "damn good thrashing" with a branch.
Cleese agreed to rewrite the scene for Specsavers opticians as he thought it would be "genuinely funny".
The ad sees Fawlty lose his patience with a sat-nav and take out his anger on the wrong target - a police car.
"A lot of people have sent me Fawlty Towers scripts, or Basil scripts, and they were always absolutely awful," Cleese said.
"But these people had an idea, and I have to say, I met them and they were all very nice, and within 20 minutes we'd written the script. Because it was kind of obvious. And I looked at that, and I thought, no I think that will work and it's genuinely funny."
The classic sitcom ran for just 12 episodes between 1975 and 1979. Cleese, who wrote the show with his wife and co-star Connie Booth, said they did not make more because they did not want the quality to decline.
The star is no stranger to advertising, having previously lent his name to Sainsbury's, Schweppes and The AA.
Cleese has also spoken about having to pay a large chunk of his wealth to his third wife Alyce Faye Eichelberger after their divorce, even embarking on his Alimony Tour in 2011.