Janet Jackson denies cancer rumours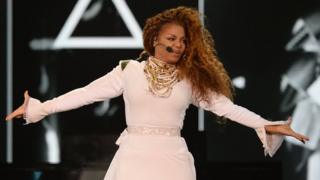 Pop star Janet Jackson has used her own lyrics to deny rumours she has throat cancer.
Concerns spread earlier this week, when US media reported "sources close to the singer" saying doctors had found a growth on her vocal cords.
Jackson responded by quoting her song The Great Forever on social media: "Sources say but where ya gettin' it? Don't create the truth you like."
In a statement, she added: "The rumours are untrue. I do not have cancer."
The singer announced just before the new year she would postpone several 2016 dates on her Unbreakable world tour, telling fans she had been advised to have surgery.
"I need you to know, I learned today, from my doctors that I must have surgery soon," she wrote. "It breaks my heart to tell you that I am forced to postpone the Unbreakable tour until the spring."
Jackson didn't elaborate on her condition at the time, saying: "There will be no further comment."
The cancer rumour originated on US gossip site Radaronline and was rapidly reported by media outlets. The unnamed source was quoted as saying Jackson's family were "terrified" as they awaited test results.
The singer's response was preceded by a message from her publicists, which said: "It was Janet's wish not to make any further comments about her health, however, because of the great concern from around the world, Janet will be releasing a personal message shortly."
After denying the cancer rumour, the 49-year-old stated: "I'm recovering. My doctors have approved my concerts as scheduled in Europe, and as I promised, the postponed shows will be rescheduled. Thank you for your prayers and love."
Her UK tour dates, which include concerts in Birmingham, Glasgow and London this March and April, are still scheduled to go ahead.
The song Jackson quoted, The Great Forever, takes aim at the media's coverage of her personal life and the Jackson family in general.
Its lyrics continue: "[You] don't like seeing people happy / Is it jealousy or personal? / Cause I don't see why loving someone / Or what I do seem so radical to you."
The song is taken from her current album, Unbreakable, which reached number one in the US last October.
It is her first release since her brother, Michael, died in 2009, which prompted the singer to take a step back from the public eye.