Bugs Bunny voice artist Joe Alaskey dies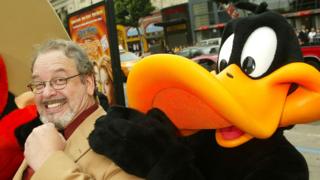 Joe Alaskey, the US voice artist who provided vocals for such Looney Tunes characters as Bugs Bunny, Daffy Duck and Sylvester the Cat, has died at 63.
Alaskey, who inherited the roles after the 1989 death of voice artist pioneer Mel Blanc, reportedly had cancer.
He was also heard as President Richard Nixon in Forrest Gump and Grandpa Lou Pickles in the Rugrats films.
Alaskey's family have thanked fans on Facebook for their "support, condolences and respect".
Born in upstate New York in 1952, Alaskey started out as an impressionist before being recruited by Warner Bros.
His big break came in 1988 with Who Framed Roger Rabbit, in which he voiced the cartoon figures Yosemite Sam and Foghorn Leghorn.
Alaskey provided the voices for both Bugs and Daffy in 2003 film Looney Tunes: Back in Action, as well as in numerous video games.
In 2004 he won a Daytime Emmy for his work in Duck Dodgers, in which he was heard as both Daffy Duck and Marvin the Martian.
In a 2012 interview, Alaskey revealed that Bugs Bunny's distinctive twang had been the hardest voice he had ever had to master.
"It took me two years," he told the Split Sider website. "The Brooklyn and the Bronx [accents] mixed together [is] very tricky, but I eventually got it down."