Hitmaker Max Martin and opera's Cecilia Bartoli made Polar Prize Laureates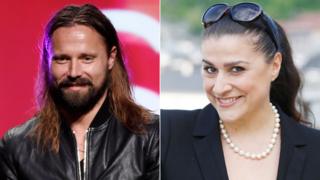 Max Martin, who has written hits for the likes of Britney Spears, and mezzo-soprano Cecilia Bartoli are to be made Polar Prize Laureates.
Swedish-born Martin has had a hand in 20 US number-one hits, while Bartoli is one of the world's best-selling artists in the field of classical music.
Paying tribute to Martin, Justin Timberlake called him "a master".
Both Laureates will receive their Prizes from King Carl XVI on 16 June in Stockholm, Sweden.
Martin, also from Stockholm, first rose to prominence in the mid-nineties writing a string of hits for Spears, Backstreet Boys and Timberlake.
His other hits include Oscar-nominee The Weeknd's Can't Feel My Face, Katy Perry's breakthrough hit I Kissed A Girl and Pink's So What.
He said: "If you can somehow influence popular culture, shape it in some way, when something becomes bigger than just a song, that's the greatest thing for me… this is what I love about music. You can reach so many people."
British singer Ellie Goulding congratulated Martin on a "very well deserved Polar Music Award", while Britney Spears said: "I think you're a genius, it's such an honour to work with you."
Timberlake added: "No one deserves it more. You are a master."
Bartoli, from Rome, Italy, is best known for her interpretations of the music of Mozart and Rossini, and has seen her solo releases achieve enormous success.
She made her professional opera debut in 1987 at the Verona Arena in Italy and, in 2001, made her Royal Opera House debut, in the roles of Euridice and the Genio in the London premiere of Joseph Haydn's The Soul of the Philosopher.
Bartoli said: "What a fantastic surprise... I feel deeply honoured because this amazing prize is all about a passion for good music without boundaries."
The Polar Music Prize was founded by Stig Anderson, the publisher, lyricist and manager of ABBA, to honour "significant achievements in music and/or music activity and to break down musical boundaries".
Previous Laureates include Sir Paul McCartney, Bob Dylan, Patti Smith and, last year, percussionist Dame Evelyn Glennie and singer Emmylou Harris.
Marie Ledin, managing director of the Polar Music Prize, said: "Max Martin and Cecilia Bartoli have both contributed an incredible amount to music in their respective fields. They embody what the Prize represents; excellence in the world of music."