Yoko Ono returns home after flu scare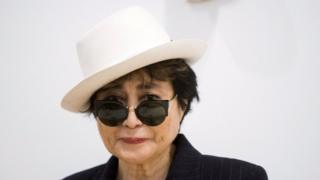 Artist and musician Yoko Ono is back at home after spending a night in hospital, her son Sean Lennon says.
She went to hospital in New York City on the advice of her doctor on Friday evening.
Sean Lennon and her spokesperson were quick to quash reports that she had suffered a stroke, saying that she was only experiencing "flu-like symptoms".
"She's home and running about as usual. Just the flu in the end," Sean tweeted on Saturday evening.
Ono, 83, was married to former Beatle John Lennon until he was murdered in 1980 outside New York's Dakota Building, where she still lives.
An ambulance was called to the building at 21:00 on Friday (02:00 GMT Saturday), a Fire Department spokesman said.
Ono spent the night in Mount Sinai Roosevelt Hospital in Manhattan.