Sir Matthew Bourne to stage Red Shoes ballet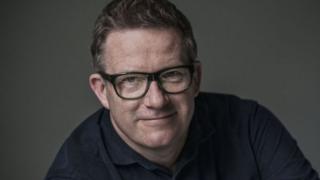 Leading choreographer Sir Matthew Bourne is to create a ballet version of the classic Oscar-winning dance film The Red Shoes, it has been announced.
The work will be premiered at the Theatre Royal Plymouth in November before playing at London's Sadler's Wells over the Christmas season.
Sir Matthew is best known for his contemporary takes on classic ballets such as Sleeping Beauty and Cinderella.
He most notably made headlines when using a male ensemble for Swan Lake.
The Red Shoes is a 1948 British film about a young ballerina who becomes the principal dancer in a new ballet called The Red Shoes, based on the supernatural fairytale of the same name by Hans Christian Andersen.
The dancer Victoria Page dreams of being the greatest in the world as she takes on the role of a young woman who comes under the spell of a beautiful but "possessed" pair of red shoes.
Victoria lives for her dance passion but her ambitions turn into a nightmare of obsession and power with tragic consequences - much like the fairytale she is re-enacting.
Sir Matthew, who was knighted in the recent New Year Honours, said it had been a "long held ambition" to bring The Red Shoes to the stage.
"The Red Shoes film was the first time I saw ballet of any kind. It's the weird and wonderful world of ballet," Sir Matthew told BBC News.
"Something that drew me to it was that it was very glamorous, it was very strange, like a piece of history preserved in some way."
The Red Shoes will use the music of the "golden age of Hollywood" composer Bernard Herrmann, best known for his collaborations with director Alfred Hitchcock.
He also composed scores for many other movies, including Citizen Kane, The Day the Earth Stood Still and Taxi Driver.
In particular, Citizen Kane and The Ghost and Mrs Muir will be used for The Red Shoes, Sir Matthew told BBC News.
"I've loved the work of Herrmann for many years and I've toyed with finding a project to work with it... I feel it's neglected and that theatrically it could be used to great effect," he added.
"The marriage of this work with his music seemed to work beautifully and I feel I am on a mission to introduce his music to a new audience through this piece.
"It's glorious music but I like the fact that it's tinged with a kind of darkness even when it's at its most beautiful… which is great for this story."
The starring role of Victoria will be played by Ashley Shaw, who is the principal dancer for Bourne's company New Adventures, with which she has been performing since 2009. She is currently performing as Aurora in Bourne's Sleeping Beauty, which is touring the UK.
The Red Shoes will open at the Theatre Royal Plymouth on 21 November before moving to London's Sadler's Wells for eight weeks from 6 December.