Unseen Sir Paul McCartney photos found in loft published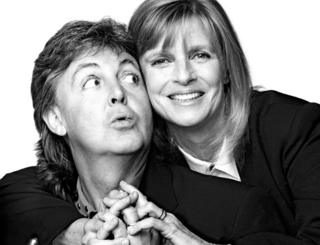 Previously unseen pictures of Sir Paul McCartney, which were found in the loft of a photographer, have been published for the first time.
The shots, taken during a session in 1993, show Sir Paul with his first wife Linda and their touring band.
They were found by London-based photographer Clive Arrowsmith, who said the "naturalness of the pictures that is the key to their success".
They appear in the April edition of The Royal Photographic Society Journal.
All three images - of Sir Paul bungee jumping with his guitar, him with Linda, and the pair with their band in fancy dress - were taken in 1993 for his album, Off The Ground, five years before Linda died of breast cancer.
The photographer said they captured "the seminal moments of the shoot when it all came together".
Arrowsmith, who has also photographed the likes of fellow Beatle George Harrison and Sir Michael Caine, added that the images showed "the fun we were all having, plus Paul and Linda's closeness".