Stephen Daldry: 'Wesker stretched every director he worked with'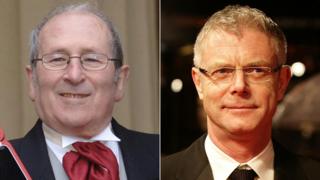 Stephen Daldry, best known for his film and stage work on Billy Elliot, was London's Royal Court theatre's artistic director from 1992 to 1998. During this time he worked with the celebrated playwright Sir Arnold Wesker, notably directing an acclaimed revival of Sir Arnold's first play, The Kitchen, in 1994. The playwright and the director also became friends.
Here, Daldry pays tribute to Sir Arnold following the news of his death at the age of 83.
---
Arnold Wesker was one of the most committed and impassioned writers of his generation.
He was also a fantastic collaborator and one of the sweetest men I have ever worked with. He was an adventurer and delight in the rehearsal room, who challenged and stretched every director he worked with.
He felt himself an outsider, the characteristic that gave his writing its power. As a young man he was jailed for marching against nuclear weapons.
This tenacity and determination marked a friendship with me that lasted decades, and began when I directed the revival of his play The Kitchen at the Royal Court Theatre, which was always his spiritual home.
[Director] Dominic Cooke's revival of Chicken Soup With Barley was one of the highlights of the theatre's history.
With his passing, and that of [director] Bill Gaskill recently, we are beginning to lose the voices of a generation that shaped theatre as we understand it today.
The working class Jewish idiom that Arnold gave expression to was unique, heartfelt and radical.
As the son of refugees, he articulated a moment in British history which has since been repeated many times, and reminds us all of the role of the artist to articulate the problems and opportunities of arrival, discovery and assimilation.
I know his family will be devastated at his loss, his sisters particularly.
We must cherish the life of their brother Arnold - his humanity, generosity and humour, and his continuing influence on British theatre at a time when we are anxious and resistant to the dazzling brilliance the outsider can bring to this nation.