Booker winner James makes Dublin Literary Award shortlist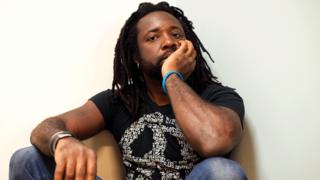 Man Booker prize winner Marlon James has been shortlisted for the International Dublin Literary Award, formerly known as the Impac Award.
The 100,000 euro (£70,000) prize is the most lucrative literary prize in the world, for novels written in English.
The shortlist features four novels in translation from Brazil, Rwanda, Germany and Spain and novels from India, Jamaica and the USA.
The books were nominated by libraries around the world.
Among the books that James' A Brief History of Seven Killings is up against is Marilynne Robinson's Lila, which revisits the characters and setting of her Pulitzer Prize-winning novel Gilead.
Mary Costello is the only Irish author on the shortlist this year with her debut novel Academy Street.
Another debut novel to make the shortlist is Rwandan Scholastique Mukasonga's Our Lady of the Nile.
Two of the shortlisted authors have been shortlisted before. Javier Cercas was shortlisted in 2008 for his novel The Speed of Light and Marilynne Robinson in 2010 for Home.
The Silkworm by Robert Galbraith, a pseudonym for Harry Potter author JK Rowling, and Ian McEwan's The Children Act were among 25 British novels that were named in the longlist - but did not make the short list.
Here is the shortlist in full:
Outlaws by Javier Cercas (Spanish) Translated from the Spanish by Anne McLean
Academy Street by Mary Costello (Irish) First Novel.
Your Fathers, Where Are They? And The Prophets, Do They Live Forever? by Dave Eggers (American)
The End of Days by Jenny Erpenbeck (German) Translated from the German by Susan Bernofsky.
A Brief History of Seven Killings by Marlon James (Jamaican)
Diary of the Fall by Michel Laub (Brazilian) Translated from the Portuguese by Margaret Jull Costa.
Our Lady of the Nile by Scholastique Mukasonga (Rwandan) First Novel. Translated from French by Melanie Mauthner.
Dept. of Speculation by Jenny Offill (American) Published by Granta and by Alfred A. Knopf.
Lila by Marilynne Robinson (American)
Family Life by Akhil Sharma (Indian-American)
The winner will be announced on 9 June 2016.