Sir Elton tops charitable celebrities list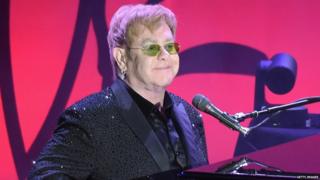 Sir Elton John has topped the list of the most generous celebrities, having given away nearly £27m to charity in the last year.
Much of that was given to his Aids foundations in the US and UK, according to the Sunday Times Giving List.
JK Rowling was second on the list, with £10.3m raised and donated by her two charities, The Lumos Foundation and the Volant Charitable Trust.
The Lumos Foundation places children in institutions with families.
The Volant Charitable Trust funds projects that alleviate social deprivation, as well as research into multiple sclerosis.
Other stars who have given away significant amounts include Ringo Starr, who has raised more than £6m through an auction of Beatles memorabilia.
A percentage has gone to his Lotus Foundation, which funds projects which help people with cerebral palsy, those who have drug addictions and domestic violent victims, to name but a few.
David Beckham raised £5m and Coldplay donated £1.7m.
One Direction, Queen stars Brian May and Roger Taylor and chef Jamie Oliver also made the list.