Prince 'did not leave will', sister Tyka Nelson tells court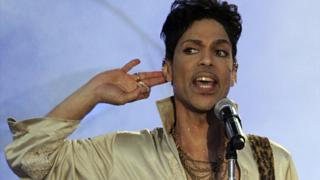 Pop star Prince did not leave a will, his sister has revealed in court documents.
The papers, filed in state court in Minnesota, show Tyka Nelson has petitioned for a special administrator to oversee the star's estate.
The rock legend, aged 57, was found dead in an elevator at his Paisley Park Studios compound in a suburb of Minneapolis, Minnesota last Thursday.
The size of Prince's fortune is unclear but includes $27m (£18m) in property.
Nelson is Prince's only surviving full sibling and stated in the papers that immediate action was necessary to manage her brother's business interests.
Prince is on course to dominate the UK charts this week, as mourning fans rush to buy his music, while the Hollywood Reporter claimed over three million of his songs and albums had been bought in the US since his death.
A private memorial service was held for the rock star on Saturday, attended by about 20 of his closest friends and family.
Following the service, drummer and frequent Prince collaborator Sheila E confirmed there were plans to turn Paisley Park into a museum, akin to Elvis's Graceland.
Thousands of fans have flocked to Paisley Park, the First Avenue nightclub, and other sites made famous by Prince since his death, while tributes have come from Lady Gaga, Bruce Springsteen, Stevie Wonder, Justin Timberlake and President Obama, amongst others.