Writer Jenny Diski dies aged 68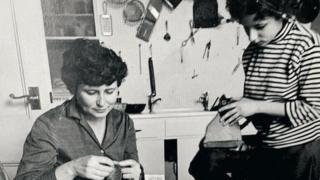 The author and essayist Jenny Diski, whose memoir about living with terminal cancer was published last week, has died aged 68.
Her partner, the writer Ian Patterson, known as The Poet in Diski's works, announced her death on Twitter.
"Sad news. My darling Jenny @diski died early this morning," he tweeted on Thursday.
Diski was diagnosed with inoperable lung cancer in August 2014 and given "two or three years" to live.
The following month, she began writing a diary for the London Review of Books, describing her experience of living with the terminal disease.
Her memoir, In Gratitude, was published by Bloomsbury on 21 April.
"We are extremely saddened to announce that Jenny Diski, an extraordinary writer of rare spirit and vision, passed away earlier today," Peter Straus, Diski's literary agent, said.
"In all her writings spanning 40 years she showed herself to be funny, frank and fearless and she leaves as a legacy a remarkable body of work."
Alexandra Pringle, group editor-in-chief of Bloomsbury, said: "I had the pleasure of working with Jenny some years ago and we were reunited for her latest book, In Gratitude.
"She was, to the very end, remarkable to work with - funny, acerbic, clever, demanding and entertaining. Peter Straus and I went to see her a few days before publication. It was wonderful to see her joy at holding the first copy of what we all knew was her final book. As her publishers we are very proud of her achievement."
The memoir examines Diski's relationship over 50 years with the late novelist Doris Lessing, who took her in at the age of 15.
Diski, who was born in 1947 in London, was the author of 10 novels, four books of travel and memoir, including Stranger on a Train and Skating to Antarctica, two volumes of essays and a collection of short stories.
She was educated at University College, London, and worked as a teacher during the 1970s and early 1980s.
Her first novel, Nothing Natural, was published in 1986. Her novels included Rainforest (1987), Happily Ever After (1991), Only Human: A Comedy (2000) and Apology for the Woman Working (2008).