James Norton set for Flatliners remake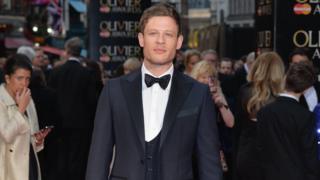 British actor James Norton is to star in the remake of the 1990 sci-fi film Flatliners.
The movie, which originally starred Julia Roberts, Kevin Bacon and Kiefer Sutherland, follows a group of medical students who create near-death experiences which put their lives in jeopardy.
According to The Hollywood Reporter, Norton will play would-be doctor Jamie.
He joins a cast including Ellen Page, Diego Luna and Nina Dobrev.
Neils Arden Oplev, who was behind the original Girl With The Dragon Tattoo film, is set to direct the film about medical students experimenting with "near death" experiences.
The reboot joins the trend of several cult movies set to be remade, including Jumanji, Point Break and The Birds.
The actor recently starred opposite Paul Dano and Lily James in the Weinstein/BBC drama War and Peace.
His other credits include the award-winning BBC drama Happy Valley, in which he plays psychopathic criminal Tommy Lee Royce, and ITV's Grantchester.