Lady Gaga denies she will play Cilla in Dionne Warwick film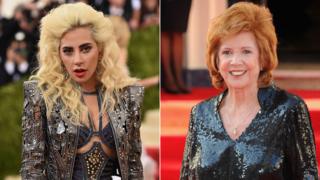 Lady Gaga's representative has denied the singer will play Cilla Black in a new film based on the life of soul singer Dionne Warwick.
"Lady Gaga is not attached and will not appear in the project," her publicist told Variety.
"Reports of Gaga starring in the project are false."
Earlier on Friday, Warwick had announced details of the film and its cast at a press conference at the Cannes film festival.
The biopic, based on Warwick's autobiography, will cover an early period in her career in the 1960s.
Former Destiny's Child singer LeToya Luckett will play Warwick, while Danny Glover will play her father.
Lady Gaga's name had appeared on a poster for the film unveiled at the festival.
Cilla Black, who died in 2015 aged 72, was Warwick's rival for many years, after Black's version of Anyone Who Had a Heart eclipsed Warwick's original.
Before the denial, a spokesman for Cilla Black's estate had commented: "We think Lady Gaga is fabulous! She's a great actress and we really look forward to seeing her portrayal."
Asked on Friday why she regarded Black as her nemesis, Warwick said it was "because she stole my music".
Oscar winner Olympia Dukakis is also lined up to appear in the film as Marlene Dietrich, whose mentoring of Warwick earned her the nickname "Momma".
Speaking about Luckett's casting, Dionne Warwick said: "She is perfect and she has exactly the right look. She will bring out what is needed for this part."
Luckett was an original member of Destiny's Child, appearing on the band's first two albums, but left in 1999.
Warwick is one of the most successful singers of all time, best known for hits such as I Say a Little Prayer and Do You Know the Way to San Jose?