Carla Lane dies: 'The world has lost an irreplaceable jewel'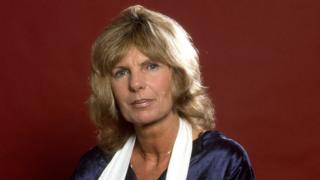 News of Carla Lane's death has led to people paying tribute on social media about her writing and charity work.
Memories of her most popular sitcoms including The Liver Birds, Butterflies, and Bread have been shared online.
Here is a selection of tributes that have been posted.
Deborah Williams, Ohio, US, emails:
I loved liver birds I followed that series till the end, I also followed Bread, I laughed so hard and Butterflies all of them are out of this world, I've been in the USA 13 yrs and I still go back to YouTube to cheer myself up and watch them.
Liz Allen emails:
I remember Carla Lane in 1995 when she joined us protesters down at Shoreham Port authority who were against the live export of animals. Carla and Celia Hammond both came down and added support to the cause and helped bring the public attention to it after it had died down a bit following the initial furore when it was hijacked by anti-police protesters. Carla was doing some work against the live export trade from her house and I went there to help out. It was an amazing place with lots of animals a lot of whom were rescued. She was a very genuine person - not at all stuffy like some celebrities just very normal.
Pamela in London emails:
An extraordinary talented, genuine, sensitive, inspirational and compassionate lady who dedicated her life to giving pleasure and humour to her fellow man. History will also forever cherish her memory as a champion and voice for all animals, not only for those who needed a safe haven but for those thousands of animals who were forced on long hazardous journeys to the slaughterhouse, their pain was Carla's pain, their tears were Carla's tears. Although for only a brief period, It was a privilege to have worked with this exceptional legend. Her heart made space for all humanity and she strived to make this world more humane. The world has lost a precious and irreplaceable jewel.
Compiled by Andree Massiah