Jordan and Nyong'o lined up for Black Panther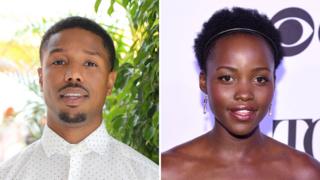 Michael B Jordan has confirmed he and Oscar-winning actress Lupita Nyong'o will be among the cast of the upcoming Marvel superhero film Black Panther.
He told The Hollywood Reporter he was "super excited" and wanted "to put a different spin on it", but did not expand on what role he would play.
The film will see Jordan reunite with his Creed director Ryan Coogler.
"I'm looking forward to working with Ryan once again. It's gonna be a good time," he said.
He added he could not wait to work with Nyong'o, who won a best supporting actress Oscar for 12 Years a Slave in 2014, as well as Chadwick Boseman - who is currently on the big screen playing Black Panther in Captain America: Civil War.
Jordan played the Human Torch in last year's Fantastic Four flop reboot. Nyong'o also played CGI character Maz Kanata in Star Wars: The Force Awakens.
Black Panther will be released in February 2018.