Penelope Pitstop voice actress Janet Waldo dies aged 96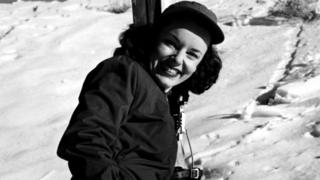 Janet Waldo, who voiced cartoon characters including Penelope Pitstop and Judy Jetson has died aged 96.
Her daughter confirmed to ABC News that she died on Sunday morning, having been diagnosed with a benign but inoperable brain tumour five years ago.
As well as starring in The Perils of Penlope Pitstop and The Jetsons, Waldo also appeared in hit US TV series I Love Lucy in 1952.
She had a variety of roles in The Flintstones including Pearl Slaghoople.
Waldo was born in Washington and she is best-known for her cartoon voice work during the '60s, '70s and '80s.
As well as voicing Josie McCoy in Josie and the Pussycats, she also voiced Morticia Addams in a short-lived cartoon version of the TV series in 1973 and a character called Hogatha in The Smurfs during the 1980s.
One of her final roles was in 1998 in the hugely popular adult animated TV series King of the Hill, in which she guest starred as Mrs Tobbis in one episode.
She began acting in 1938 with small roles in several films but by the '70s she worked almost exclusively in animation.