Adele at Glastonbury: Her best quotes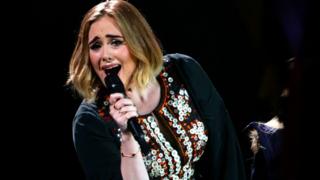 Adele's concerts have become almost as known for her interaction with fans, as for her music.
The star talks the way she sings, with an engaging honesty that fans instantly relate to (although her stage patter has better punchlines).
She was on typically fine form during her headline set at Glastonbury. Here are a selection of her best on-stage moments.
Adele on... being uncharacteristically lost for words
"This is mad," Adele declared, surveying the audience after her first song, the appropriately-titled Hello.
"I'll just have to go straight into another one my darlings, cos I don't know what to say to you yet."
Adele on... cuisine
"Oh my God, I just burped! I had a dirty burger before I came on, that's why."
Adele on... nerves
"For the last two days I've been spontaneously bursting into tears. I'll be really excited one minute and then I'll think it's the end of the world. I was literally expecting to come on to a soggy hay bale blowing in the wind."
Adele on... the emotional resonance of her music
"I did a show in Belfast and two women started having a cat-fight with a pair of stiletto high heels. They get drunk at my shows and they feel all their emotions, and then all hell breaks loose."
Adele on... domesticity
"I watched Muse last night, had a Chinese, did some washing up."
Adele on... fluffing the intro to River Lea
"I might have to start again. I'm a bit out of breath from all that dancing. It's also an excuse to wipe my sweaty top lip."
Adele on... endurance
"I'm sure you're aware that I don't really have many upbeat happy songs... but I do have a couple, so I'm going to give one to you now.
"After that, it does get miserable. But let's just be miserable together, alright? Let's just embrace it because I'm not going anywhere for an hour and a half."
Adele on... swearing
"Do you know how rock and roll I am? Not very, but the BBC had to give a warning about my potty mouth before I went on. I bet Muse didn't get that."
Adele on... Glastonbury
"I have had some of the best times of my life on a Saturday night here at Glastonbury. Moments in my life that I'll remember forever. That's why I'm so excited for you because after this some of you are going to have the most incredible, incredible things happen to you. I'm really excited for you. Oh my Gawd, it's a right laugh."
Adele on... inspiration
"Do you have anyone in your life that you would rather not be in it? I've had a lot, hence all my albums."
Adele on... why there's no video for Skyfall
"I didn't do a video because I was nine and half months pregnant and about to drop any day. Who wants to do a Bond video if you don't look like Halle Berry?"
Adele on... the state of the world
"It's a bit weird all the stuff that's going on at the moment, and we all need to look after each other."
Adele on... headlining Glastonbury
"This is, by far, the best moment of my life. I didn't want to come on and now I don't want to go off."
Adele on... her future plans
"I've been dying for my cider. Oh my days, I'm going to have a few."