Top Gear USA cancelled, BBC confirms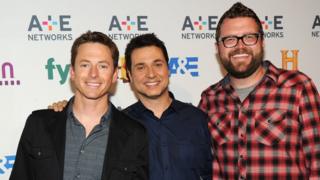 Top Gear USA has been cancelled, the BBC has confirmed.
The programme, broadcast on the History channel in the US, is a spin-off from the popular motoring series and not the version shown in the UK starring Matt LeBlanc and Chris Evans.
Presenter Rutlege Wood first announced the news on Facebook - and suggested the show could return on a new channel.
"I'm not saying Top Gear is done, but it's done for the immediate future on History," he wrote.
Wood described co-presenters Adam Ferrara and Tanner Foust as "like brothers to me" and described working on the show as "a total dream come true".
"The three of us will stick together and hope to bring you much more Top Gear USA, albeit somewhere else," he said.
Top Gear USA has been running since 2010 - racking up 72 episodes across six seasons.
A spokesperson for BBC Worldwide North America said: "History treated Top Gear USA with great care, and the show had a solid five-season contractual run with the network.
"We are fully committed to the hugely successful Top Gear brand - known all over the world - and have begun exploring new opportunities for the series in the US."