Top Gear: Timeline 2015 - 2016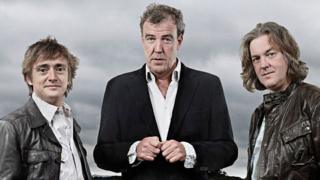 Top Gear has had a bumpy ride over the last two years, having just lost Chris Evans as its main presenter after its latest series ended.
Last year saw the BBC drop Jeremy Clarkson following a "fracas" with one of the show's producers, with co-hosts Richard Hammond and James May deciding not to return to the show just days later.
After much media speculation about who was to replace them, BBC presenter Chris Evans joined the show, followed by Friends star Matt LeBlanc.
Here is a timeline of the show's ups and downs over the last two years:
10 March 2015: Clarkson suspended by BBC after 'fracas'
25 March 2015: Clarkson dropped from Top Gear, BBC confirms
7 April 2015: Clarkson: Police end 'fracas' inquiry
14 April 2015: Perkins takes Twitter break after Top Gear 'threats'
19 April 2015: Clarkson recalls cancer scare before Top Gear 'fracas'
23 April 2015: May 'will not return to Top Gear' without Clarkson
24 April 2015: Top Gear producer Wilman quits show
16 June 2015: Evans to be new Top Gear presenter
17 June 2015: Top Gear: Clarkson gives Evans tips
30 July 2015: Clarkson, Hammond and May making show for Amazon
4 February 2016: LeBlanc to be Top Gear co-presenter
11 February 2016: Jordan and Schmitz join Top Gear line-up
11 February 2016: Magnificent seven? Reaction to line-up
24 February 2016: Clarkson apologises to Top Gear producer Tymon
29 February 2016: Top Gear presenter Evans behaviour claims 'rubbish'
14 March 2016: Cenotaph will not be shown on programme, BBC says
30 May 2016: Top Gear return watched by 4.4m viewers
30 May 2016: Top Gear: Reviews round-up
6 June 2016: Top Gear audience drops by a third on second episode
4 July 2016: Top Gear hits ratings low as viewers flock to Euro 2016
4 July 2016: Evans to step down as Top Gear presenter