Star Trek character Hikaru Sulu revealed as gay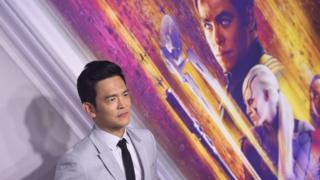 One of Star Trek's best known characters, Hikaru Sulu, has been revealed as gay.
The character, played by John Cho in the current franchise, will be shown as having a same sex partner in the forthcoming Star Trek Beyond.
Cho told the Herald Sun the move was a nod to George Takei, the gay actor who played the character in the original 1960s television series.
The decision was taken by British star Simon Pegg, who wrote the screenplay.
Cho said: "I liked the approach, which was not to make a big thing out it, which is where I hope we are going as a species, to not politicise one's personal orientations."
Takei has previously said he had to keep his homosexuality secret when he originally worked on Star Trek in order to continue working in television.
"If I wanted to work as an actor I had to keep it a secret," he said last year.
"Back then I couldn't marry a white person - that was against the law here, miscegenation. But now I am married to a white dude so we have changed."
Star Trek has a track record for breaking new ground - in 1968 the show famously featured the first interracial kiss to be screened on US television.
---
Follow us on Twitter @BBCNewsEnts, on Instagram, or email entertainment.news@bbc.co.uk.