Adrian Tchaikovsky wins Arthur C Clarke Award for science fiction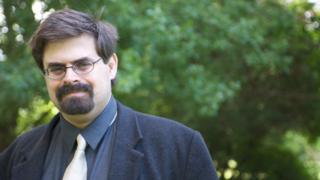 Author Adrian Tchaikovsky has won the Arthur C Clarke Award for science fiction for his epic space opera Children of Time.
In awarding the prize, the judges said the novel shared much in common with the works of Sir Arthur himself.
Tchaikovsky's victory was announced at a ceremony on Wednesday, attended by Sir Arthur's niece Angie Edwards, at Foyles bookshop in central London.
He received a trophy and a cheque for £2016.
"Children of Time has a universal scale and sense of wonder reminiscent of the novels of Sir Arthur C Clarke himself," said award director Tom Hunter.
He described the novel as "one of the best science fictional extrapolations of a not-so-alien species and their evolving society I've ever read".
Andrew M Butler, chair of judges, added: "Children of Time tells two parallel stories of the last survivors of Earth and the inhabitants of a terraformed planet - it takes the reader's sympathies and phobias, and plays with them masterfully on an epic and yet human scale."
Tchaikovsky, who is based in Leeds, is the author of the Shadows of the Apt fantasy series, which began with 2008's Empire In Black and Gold and ended in 2014 with Seal of the Worm.
On his website he describes himself as "a lawyer, gamer and amateur entomologist".
---
Follow us on Twitter @BBCNewsEnts, on Instagram, or if you have a story suggestion email entertainment.news@bbc.co.uk.