Venice film festival: Philippines revenge drama wins top prize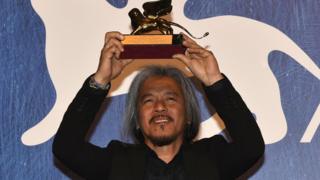 Philippines film The Woman Who Left, a black and white drama by director Lav Diaz, has won the Golden Lion for best film at the Venice Film Festival.
It tells the story of a schoolteacher's thirst for revenge and her feelings of forgiveness after 30 years in jail for a crime she did not commit.
Diaz said the film was a testimony to the struggles of the Philippines after centuries of colonial rule.
Twenty movies competed in the 73rd edition of the film festival.
"This is for my country, for the Filipino people, for our struggle, for the struggle of humanity. Thank you, thank you so much," the 57-year-old director said as he accepted the award.
The film, Ang Babaeng Humayo in Tagalog, has a running time of almost four hours.
Other awards included:
Grand jury prize for fashion designer Tom Ford for his thriller Nocturnal Animals
Best director shared between Russia's Andrei Konchalovsky for the Holocaust drama Paradise (Rai) and Mexico's Amat Escalante for The Untamed (La Region Salvaje)
Best actor to Argentina's Oscar Martinez for his role in the comedy-drama The Distinguished Citizen (El Ciudadano Ilustre)
Best actress to American Emma Stone for the musical La La Land
Marcello Mastroianni Award for best young performer to German actress Paula Beer for her role in post-war drama Frantz
Best screenplay to Noah Oppenheim for his work on Pablo Larrain's Jackie
Special jury prize to Ana Lily Amirpour's The Bad Batch
This year's jury was led by British director Sam Mendes, who said the films in competition proved to be of "a wonderful, astonishing variety".