Profile: Duchess of Sussex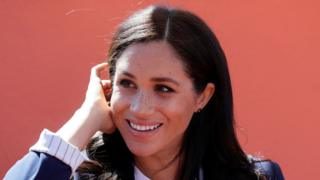 Meghan Markle made her name as an actress, campaigner and blogger before marrying Prince Harry in May 2018 and becoming the Duchess of Sussex.
Before meeting Harry, she had been best known for playing lawyer Rachel Zane in US TV drama Suits.
Now as a member of the Royal Family, she has given up her acting career. Instead, she has immersed herself in the life of a working royal, using the platform to highlight the charities and causes close to her heart.
Her pregnancy was announced last October.
---
Early life
Born Rachel Meghan Markle on 4 August 1981, she grew up in a prosperous part of Los Angeles.
Her mother's home is in an area known as the "Black Beverly Hills", where the average price of a home is $771,000 (£587,000).
Meghan went to a private primary school in Hollywood and started campaigning for gender equality at an early age.
At 11, she wrote a letter to the then US first lady, Hillary Clinton, lamenting a washing-up liquid's TV ad strapline: "Women all over America are fighting greasy pots and pans."
Within a month, manufacturers Procter and Gamble had changed the word "women" to "people".
"It was at that moment that I realised the magnitude of my actions," she later said. "I had created my small level of impact by standing up for equality."
At 15, she was volunteering in soup kitchens as her studies continued at a girls' Roman Catholic college, and she graduated from Northwestern University School of Communication, near Chicago, in 2003.
A stint working as an intern at the US embassy in Argentina made her think her path might lead her into politics, but she changed course when her acting career began to take off.
Between auditions, she has told of making money by doing calligraphy for wedding invitations, using skills developed in handwriting classes at school.
Her father was a cinematographer on the hit 1980s show Married... With Children, and her first television appearance in the US was in an episode of the medical drama General Hospital in 2002, before moving on to roles in CSI, Without a Trace and Castle.
There were leading roles in TV movies such as When Sparks Fly and Dater's Handbook, and bit parts in Hollywood films including Get Him to the Greek, Remember Me and Horrible Bosses, and she was a "briefcase girl" on the US version of gameshow Deal or No Deal.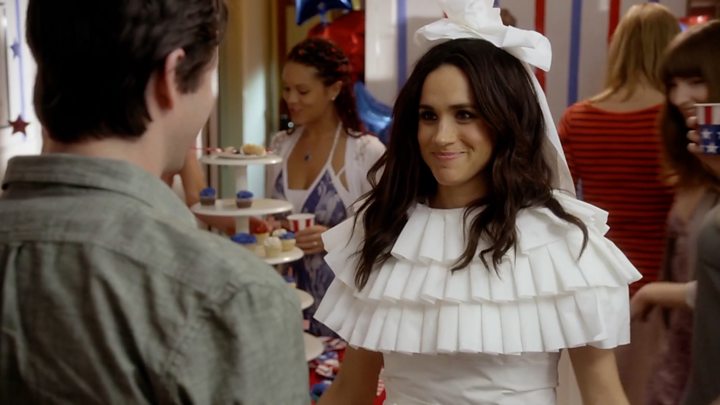 She also appeared in the sci-fi series Fringe, playing FBI special agent Amy Jessup, but her most famous role was in Suits.
Meghan was in the show from its launch in 2011, but was written out in the finale of the seventh series. Fittingly, perhaps, she left after her character got married.
In real life, Meghan's union with Prince Harry wasn't her first marriage. In September 2011, she wed film producer Trevor Engelson, but the pair divorced two years later.
In September, it was reported that her ex-husband was producing a new TV show based on a man's custody battle with his ex-wife who marries into the Royal Family.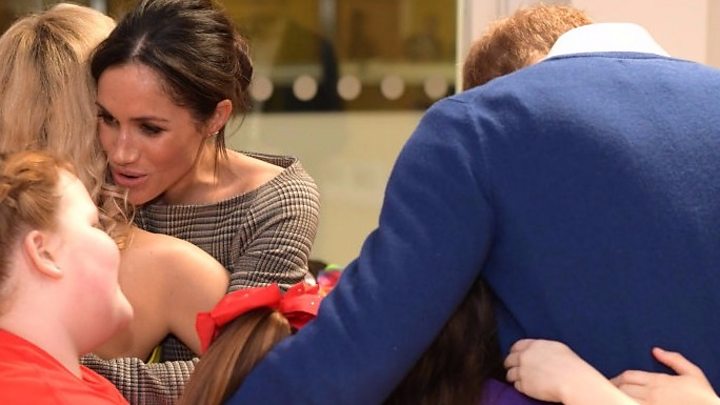 In 2014, she began writing about topics such as food, beauty, fashion and travel, as well as her own story, on her lifestyle website The Tig.
Meghan said setting up the website was an attempt to "reframe the beauty content to include think pieces about self-empowerment" and feature dynamic, inspirational women.
In one post, she explained: "I've never wanted to be a lady who lunches - I've always wanted to be a woman who works."
The site also carried candid blogs she wrote on every birthday. On turning 33 in 2014, she wrote: "My 20s were brutal - a constant battle with myself, judging my weight, my style, my desire to be as cool/as hip/as smart/as 'whatever' as everyone else."
She also grew a large social network profile, with 1.9 million followers on Instagram and more than 350,000 on Twitter.
But she shut The Tig in April 2017, and deleted her social accounts January 2018.
Her media career has gone hand-in-hand with support for causes that are important to her.
She tackled the issue of the stigma around menstrual health in an article for Time magazine in March 2017 and was a Global Ambassador for World Vision Canada, which campaigns for better education, food and healthcare for children around the world.
As part of her role, the actress travelled to Rwanda for the charity's Clean Water Campaign.
Meghan's commitment to gender equality has seen her work with the United Nations, and she received a standing ovation from an audience including UN Secretary General Ban Ki-moon for a stirring speech on International Women's Day 2015.
Commenting on how she combined acting with campaigning, she said: "While my life shifts from refugee camps to red carpets, I choose them both because these worlds can, in fact, co-exist. And for me, they must."
Meghan, whose father is white and mother is African-American, has also spoken about coming to terms with her racial identity.
In an article for Elle magazine, she wrote: "While my mixed heritage may have created a grey area surrounding my self-identification, keeping me with a foot on both sides of the fence, I have come to embrace that.
"To say who I am, to share where I'm from, to voice my pride in being a strong, confident mixed-race woman."
---
Marriage to Prince Harry
In late 2016, Prince Harry confirmed he was in relationship with Meghan - while issuing a statement accusing journalists of harassing her.
The pair had met on a blind date, organised by a mutual friend. After just two dates, they went on holiday together to Botswana.
In September 2017 Meghan told Vanity Fair magazine they were "two people who are really happy and in love".
And in an interview that November, when their engagement was announced, Prince Harry admitted he had never heard of Meghan before his friend introduced them, and was "beautifully surprised".
Meghan and Prince Harry got married at St George's Chapel, Windsor, on 19 May 2018.
---
Royal Tours and engagements
Meghan and Prince Harry embarked on their first royal tour together in October 2018 - visiting Australia, New Zealand, Fiji and Tonga over 16 days.
The trip coincided with the couple announcing they were expecting their first baby.
The duke and duchess followed in the footsteps of Prince Harry's parents - Prince Charles and Diana, Princess of Wales - whose first royal tour was to Australia and New Zealand.
---
Charities and patronages
As a duchess, Meghan has a growing portfolio of charitable work and patronages, which include the National Theatre and charity Smart Works.
Meghan launched a charity cookbook in September 2018 to help those affected by the Grenfell Tower fire.
---
Follow us on Twitter @BBCNewsEnts, on Instagram, or if you have a story suggestion email entertainment.news@bbc.co.uk.