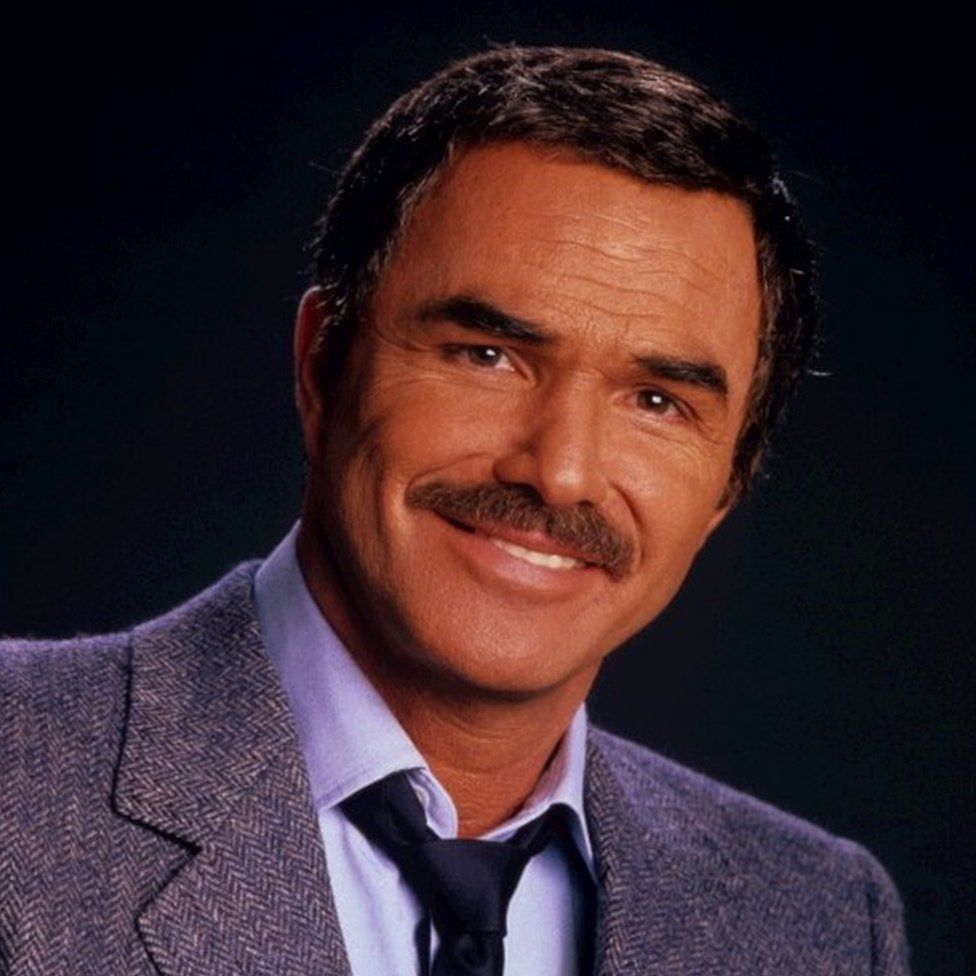 Burt Reynolds charmed and swaggered his way to being one of Hollywood's best-known stars.
From his early days in a seemingly endless series of Westerns, he went on to appear in films of the quality of Deliverance before embracing comedy in The Cannonball Run and Smokey and the Bandit.
He was one of cinema's top box-office draws and notable sex symbols in the 1970s, and had a lifestyle in which he enjoyed many fast cars and seducing some of his female co-stars.
But his career and his finances plummeted downwards in the 1980s and it was a decade before he returned to form and a whole new audience.
Burton Leon Reynolds was born in Lansing, the state capital of Michigan, on 11 February 1936. With the onset of World War Two, his father was drafted into the US Army and the family moved to Missouri.
When his father returned from service in Europe, he became the chief of police in Riviera Beach, Florida, and the young Reynolds attended the local high school.
There, he developed as a skilful football player, winning a sports scholarship to Florida State University. He had ambitions to turn professional and was being considered by the Baltimore Colts.
But a knee injury in his first major college game ended his dreams of fame and fortune on the football field. "It tore me apart," he later said. "My dad probably took it harder than I did - he was crushed"
He began taking English lessons with a view to becoming a parole officer but his teacher, having heard Reynolds reading Shakespeare aloud, cast him in a production of the play Outward Bound, and his performance won him the 1956 Florida State Drama Award.
A move to New York brought him into contact with the actress Joanne Woodward, who introduced him to theatre producers. He was cast in a production by the Neighborhood Playhouse, an establishment that had launched the careers of, among others, Gregory Peck, Dustin Hoffman and Robert Duvall.
But a breakthrough eluded him and, despite good reviews, he found himself doing a variety of jobs including lorry driving and working as a waiter.
It was television that came to his rescue. There were bit parts in cowboy shows such as Gunsmoke and Pony Express, and his small-screen appearances were enough to launch him into big-screen Westerns
His swarthy looks - he had some Cherokee in his ancestry - saw him playing the title role in the 1966 film Navajo Joe, and there were parts in 100 Rifles and Sam Whiskey, the latter giving him a chance to show a talent for comedy.
It was his role as Lewis Medlock in John Boorman's dark film Deliverance that made him a star. The film, which garnered three Oscar nominations, tells the story of four city dwellers who encounter some brutal locals while on a wilderness trip in Georgia.
In one scene Reynolds almost drowned piloting a canoe down a fast-flowing river. The producers had decided to save money by having the actors do their own stunts.
Deliverance was a box-office success and his popularity with audiences soared. After a part in Woody Allen's Everything You Always Wanted To Know About Sex, he starred as the eponymous private investigator in Shamus.
Reynolds became seen as something of a Hollywood sex symbol, an image he did much to promote when he posed nude across the centre pages of Cosmopolitan magazine in 1972.
White Lightning saw him first appear as Robert "Gator" McKluskey, a role he would reprise three years later in the 1976 film Gator. The film revelled in its Southern roots.
He stayed deep in the South for The Longest Yard. Shot in a Georgia prison, it featured Reynolds as a one-time pro footballer, imprisoned after a frantic car chase with police, who forms a team of prisoners, known as Mean Machine, to take on the guards at a football match.
By the time Reynolds starred in the 1977 film Smokey and the Bandit, he was America's top box-office star, a position he would hold for a further five years.
The film, essentially one long car chase, was originally planned as a low-budget B movie but Reynolds's involvement saw the studio pump millions of dollars into the project.
It was money well spent as the film became the second highest-grossing film of 1977. It also introduced Reynolds to his co-star, Sally Field, and the two began a relationship during shooting.
The film spawned two sequels, Smokey and the Bandit Ride Again and Smokey and the Bandit Part 3, although Reynolds only made a cameo appearance in the latter production, by which time the format looked to be on its last legs.
Reynolds returned to a sports theme with Semi-Tough, set in the world of American football. Critical reviews were mixed but Reynolds received praise for his own performance.
Sharky's Machine, in which he played a tough drugs enforcement officer, proved to be the turning point in his career. He had gained a reputation for being difficult to work with and for his womanising, which had seen him date, and dump, a string of female co-stars.
He later admitted his behaviour had hurt his career. "I think it's not good to have people think you are out every night and fooling around," he told Vanity Fair
His fall from grace at the box office highlighted the fact that, although he had been earning millions, he had also been spending it. He bought a string of luxury properties, a private jet, a helicopter and a fleet of custom-built cars.
He lost $20m dollars after two restaurant chains he invested in went bust and buying into the Tampa Bay Bandits, a team in the fledgling US Football League, proved a mistake when both team and league collapsed after three years. When he tried to sue his financial advisers he discovered he had, unknowingly, signed a document exonerating them from any responsibility.
Having married and divorced the actress Judy Carne in the 1960s, he married actress Loni Anderson in 1988 at a lavish ceremony at his ranch. The relationship ended acrimoniously in 1993 among accusations of lavish spending (hers) and infidelity (his) which culminated in a costly court battle that kept the gossip sheets happy for months.
Eventually he was forced to file for bankruptcy with his debts listed as more than $11m.
His film career had a nudge back upwards with a part as a porn film director in Boogie Nights in 1997, which won him an Oscar nomination and brought him to a new audience that barely remembered his earlier career. Roles in Pups and Time of the Wolf proved he could still turn in a good performance.
But his need to recoup some of his lost money saw him take almost any part that came along and he appeared in a number of howlers in the first decade of the 21st Century, including the dire Broken Bridges and Without a Paddle.
But his financial problems failed to go away and, in 2014, he was forced to sell most of his assets including prized items from his films such as his Smokey and the Bandit jacket and a number of awards including his 1998 Golden Globe.
Burt Reynolds possessed an ability to stay the course despite a rollercoaster career that gained him a great deal of money and a lifestyle that saw much of it frittered away.
But his six decades on the screen proved his charismatic appeal and his abilities as an actor. Perhaps it was also the refreshing honesty with which he reflected on the problems that had laid him low.
Vanity Fair journalist Ned Zeman once asked Reynolds if he had any regrets. "I would have spent more money and had a lot more fun," he replied. "It's always possible to spend more money."