Carpool Karaoke: Eight things to expect from the new series
By Steven McIntosh
Entertainment reporter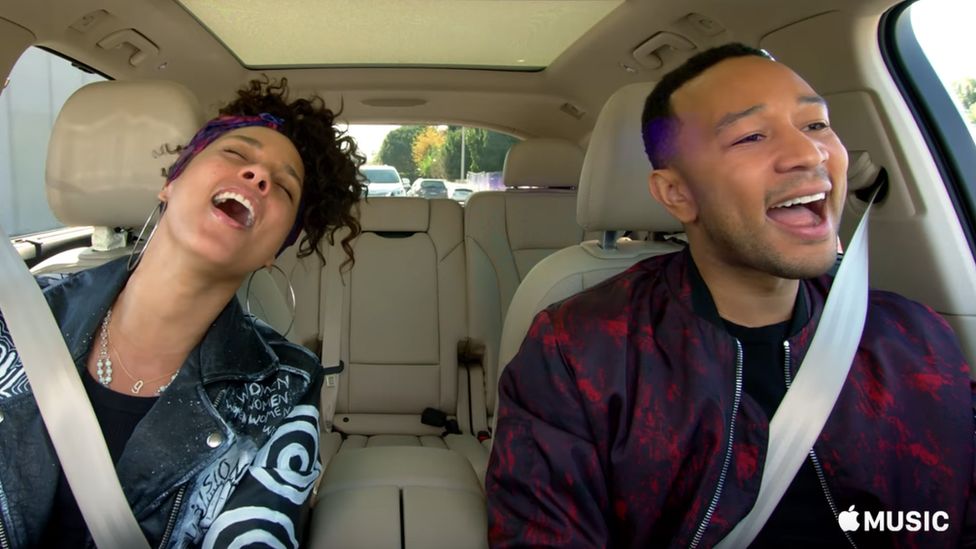 Apple Music has delayed the launch of the new Carpool Karaoke TV series.
It had originally been due to premiere this month but the company told Reuters it will now be "later this year".
The delay seems a little odd as we know most of the series has already been filmed.
But, let's be honest, judging by the first trailer, which was released in February, it will probably be worth waiting for.
No reasons were given for the delay, which will see two celebrities paired up for a singalong session in each of its 16 episodes.
The show was commissioned as a series in its own right after the regular Carpool Karaoke segments on The Late Late Show with James Corden proved hugely popular.
Here are eight things we can expect from the show (when it arrives), judging by the trailer.
1. Carpool Karaoke no longer needs to be in a car. Or even on the ground
Carpool Karaoke is no longer confined by silly little details like, you know, actually being in a car.
"This is the next level," says Will Smith, as he guides James Corden towards a waiting helicopter at one point in the trailer. Gravity schmavity.
Appropriately, the first song they sing once they are in said aircraft is, of course, R Kelly's I Believe I Can Fly.
Reports that they also belted out a rendition of Westlife's Flying Without Wings could not be immediately confirmed.
2. Ariana Grande and Seth MacFarlane have zero time for parking restrictions
At one point, Family Guy creator Seth MacFarlane and singer and all-round awesome person Ariana Grande are shown standing by the parked car.
Earlier in the trailer, they had been seen beautifully singing a song from The Little Shop of Horrors. All sweet and innocent and lovely.
But look a little closer - and the plot takes a much darker turn. They appear to have pulled up across TWO disabled parking spaces.
Ariana is going to have to give us at least six new masterpieces of Side To Side-level quality to redeem herself.
3. It's strange not having James Corden in the driver's seat
Since the dawn of time, James Corden has been a ubiquitous presence in the driver's seat of the Carpool Karaoke automobile.
But he's now allowed someone else to get behind the wheel, which gives us the extremely exciting prospect of episodes with five-piece bands. Or in this case, four-piece bands, plus a guest.
The previous application form was limited to a maximum of four people, which allowed us Carpools featuring Red Hot Chili Peppers and One Direction 2.0.
But behold, now we have comedian Billy Eichner able to hitch a ride with Metallica (pictured).
We're trying not to get our hopes up but this could technically pave the way for Little Mix giving Ozzy Osbourne a lift to Sainsbury's.
4. They may need a bigger car
"You're going to need a bigger boat," said someone once in some famous movie or other.
In this case, the production team are perhaps going to need a bigger car for two of their more well-built guests.
Basketball player Shaquille O'Neal and wrestler John Cena just about managed to squeeze in.
Thank goodness it wasn't a Mini.
5. Blake Shelton and Chelsea Handler are keen to get their five a day
A slice of orange, a chunk of pineapple, a quarter of lime - it's fair to say country singer Blake Shelton and comic Chelsea Handler are fans of fruit.
(Alternatively, it's possible that they're just fans of alcohol, served with fruit.)
Of course, they could be hoping to become the faces of a new fruit and veg campaign, judging by this segment in the trailer.
Because a slice of lemon in your drink counts towards your five a day. Doesn't it. Doesn't it?
6. A lot of people mistake John Legend for Pharrell Williams
John Legend takes Alicia Keys and Hidden Figures actress Taraji P. Henson on a little spin in the new Carpool series, with the two singers seen belting out Alicia's Fallin'. (Tune.)
But they also have a nice little chat, during which John Legend reveals that people often mistake him for somebody else.
"Old white women think I'm Pharrell [Williams] sometimes," he explains.
He even briefly belts out the hook of Happy so as not to disappoint this particular fanbase.
Maybe it goes both ways and Pharrell is regularly stopped by members of the public and asked for a quick blast of All of Me.
7. Wait. Go back a sec. Is that... a BRASS BAND?
Yep. That's a 90-piece brass band.
Being conducted from a sun roof by Will Smith.
Who is leading them in a rendition of his 1997 treasure Gettin' Jiggy Wit It.
8. Heavy metal sounds better in the dairy aisle
First Blake and Chelsea hit the pub, and look, there's John Legend and Alicia Keys in a laundrette.
Straight in at number one in the Look We Can Be Normal chart, however, is Metallica in a supermarket.
If you haven't experienced Enter Sandman being performed next to the free range eggs, you've not heard Mozart the way it was meant to be played.
A version of this story was first published in February.