Ed Sheeran: 'I've got a song that's better than Thinking Out Loud'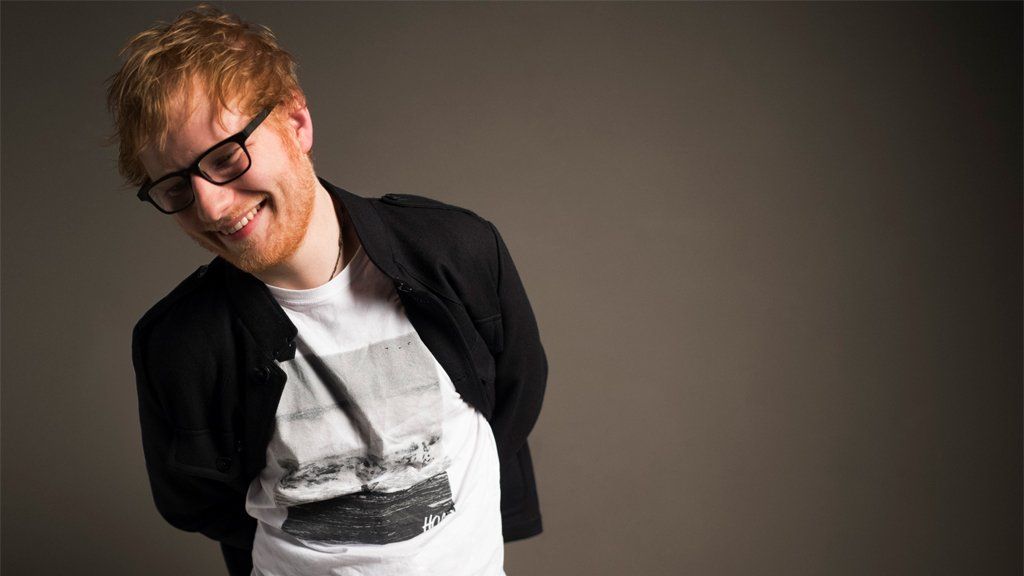 In the first instalment of an exclusive online two-part interview, Ed Sheeran takes BBC Music reporter Mark Savage behind the scenes of his third album, ÷ (Divide).
In the lobby of Atlantic Records in West London, a poster of Ed Sheeran's massive face peeks out from behind a chandelier, smiling beatifically at you.
As you get in the lift, there he is again. And when you walk past the boardroom, he's present in puppet form - the marionette from his Sing video is stood upright in a glass presentation case.
We're ushered into the press office, where Ed's magazine covers have all been framed and hung on the wall. There's the NME, Q magazine, Rolling Stone, Billboard... and someone has stuck googly eyes on them all.
It encapsulates him perfectly: Ed Sheeran is pop's most self-deprecating megastar.
According to film director Sharon Maguire, who shot his cameo in Bridget Jones' Baby, "the more insulting we made it, the more he loved it".
And when he sold out three nights at Wembley, he delighted in the Big Issue's description of him as "the world's first stadium busker".
"I didn't have a guitar case in front of the stage, though," Sheeran laughs. "Although that probably would have been fun."
'A song to beat Thinking Out Loud'
When he arrives, Sheeran saunters into the room in regulation scruffy jeans and a hoodie, his mop of ginger hair squashed haphazardly under a baseball cap.
The scar on his cheek, a result of Princess Beatrice slicing him open with a sword while pretending to knight fellow pop singer James Blunt, is much deeper than it appears in photos.
But he's not here to talk about that. There's the small matter of his third album, ÷ (Divide). Already tipped to be one of the year's biggest sellers, it finds the singer-songwriter in a new position: having to live up to expectations.
After his unassuming debut, Sheeran's second album, 2014's x, was a revelation: from the Pharrell Williams produced beats of Sing to the heart-melting ballad Thinking Out Loud, it was the sound of a writer flexing his muscles and realising he could punch above his weight.
The album sold 13 million copies worldwide - but if there was pressure to follow it up, Sheeran took no notice.
"I felt that with the first album," he says. "I remember thinking I would never write a song as good as A Team. And then Thinking Out Loud came, and I was like, 'Oh, OK, well maybe it's not impossible.'
"So going into this album, there was no worry at all because I knew I'd done it before. It's not like Thinking Out Loud will be the peak of my career. It's definitely happened on this album. There's definitely one that's better."
The song he's referring to is Perfect. A swoonsome waltz-time ode about his "beautiful and smart" girlfriend, Cherry Seaborn, that's guaranteed to soundtrack thousands of first dances before the year is out.
He says the song was inspired by "being in love" - but then he gives a glimpse of his alter-ego: the ambitious and astute music industry businessman.
Thinking Out Loud, he points out, was co-written with folk singer Amy Wadge, "and if I had another song as big as that, I wanted it to just say my name on the credits".
"So I did a lot of solo writing, and that was one of the things that came out of it."
Elaborating on the theme, he explains how the entire album was constructed according to a blueprint.
"I had in my mind what sound should be on what song, and which subject matter would be on which song - so I'd write 10 songs for that [idea].
"So there's six or seven songs about Suffolk, but Castle On The Hill was the best one. And then there was a bunch of wedding songs, I guess, and Perfect was the best one."
His approach impressed one of pop's most seasoned writers.
"Ed is super-intelligent and he's savvier than just about anyone I've ever met," says OneRepublic's Ryan Tedder, whose hits include Beyonce's Halo and Adele's Rumour Has It.
"He's just laser-focused."
Together, Tedder and Sheeran wrote more than two dozen songs during the ÷ (Divide) sessions.
"We'll do, like, 15 or 16 in a day," says Sheeran. "We might do one finished song, and then we'll put loads of ideas down - because we've got so many ideas, it doesn't make sense to spend five hours working on just one."
While the album contains only one of those songs, a ballad called Happier, Tedder isn't worried.
"I have all these voice notes of different songs with him that, if I was smart, I would be pitching to Justin Bieber," he laughs.
The singer frames Sheeran's success in the context of Malcolm Gladwell's theory that genius takes at least 10,000 hours of hard work.
He says: "Ed said to me, 'Look, all things considered, you and I both know people that are more talented than us, but you know what they say about 10,000 hours? How many guys do you know that have put in 30,000?'
"There aren't a lot of us. We both are obsessed."
It sounds like incredibly hard work - but Sheeran's songs never come across as tired or forced.
Take his U2-style stomper Castle On The Hill.
The lyrics effortlessly evoke his childhood in Framlingham - "Fifteen years old and smoking hand-rolled cigarettes, Running from the law through the backfields and getting drunk with my friends" - but he didn't spend hours labouring over them in a notebook.
"I never write anything down," he says. "That was literally just done line by line, just then and there with a microphone. I put down things that rhyme in my head, and then it forms into a song.
"Listening back to it, I was like, 'Oh wow, it actually makes a lot of sense.' But that isn't how I approached it at all."
Castle On The Hill was released on 6 January, at the same time as the more up-tempo, BBC Radio 1 friendly Shape Of You.
Both records have dominated the charts since, shifting two million copies.
Shape Of You has been at number one for the duration; so did Sheeran know in advance which would do better?
"I've always said Shape Of You is going to be the biggest now, but Castle On The Hill is going to be the biggest in 20 years," he states matter-of-factly.
"Castle On The Hill is a heritage song that I'll be remembered for."
The new album splits between these two extremes - slipping smoothly between beat-driven pop hits and acoustic stadium anthems.
If, as is rumoured, he headlines the third night of Glastonbury this summer, the tracks have already been road-tested with his trusty loop pedal; meaning he'll continue to play solo, armed with nothing more than his travel-sized guitar.
"I don't feel like if I suddenly got a band, everyone would go, 'Wow,'" he says. "I actually feel it'd take away from me."
"When you've got a band and it's quite rehearsed, it can get quite monotonous night after night.
"Whereas with a loop pedal, you're on edge the whole time because it might go wrong in front of 87,000 people - so it makes it more exciting."
As you might have worked out by now, Sheeran is supremely confident. Yet he never betrays the sort of ego that derails other artists.
This is evident in his songs, too, remaining relatable even when he sings about visiting "four cities, two planes, the same day".
That lyric is from Don't - a song which, like the rest of his previous album, he described as being about "drunken regret". On ÷ (Divide), there's no such theme.
"At first, it was a really happy album," he says, "then I thought it was too happy so I took some of the happy songs off it.
"So it's just a well-rounded view of me right now. Not drunken regret. There's actually no drunken regret on it at all."
Has he stopped drinking, then?
"No. But I've stopped regretting things."
Ed Sheeran's album, ÷, is released on Friday, 3 March by Atlantic Records.
Related Internet Links
The BBC is not responsible for the content of external sites.