Stormzy criticises 'foul' NME over mental health cover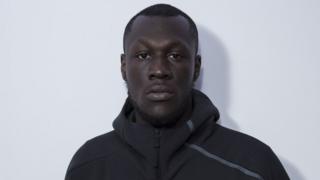 Stormzy has criticised NME for putting him on its cover without permission for a story about depression.
This week's front cover of the free music magazine sees a picture of the grime artist alongside the headline "Depression: It's time to talk."
Stormzy says he did not speak to NME - the quotes the magazine ran were from a different interview.
NME's editor Mike Williams apologised and said: "Our intentions were only positive."
In a expletive laden series of tweets, Stormzy branded NME "sly", "foul", "below the belt" and "paigons" - a slang term for traitors.
He tweeted: "[Depression] is a subject that isn't the easiest thing to speak about. And I've been careful in how I've dealt with it in the media.
"After I spoke on it I realised how widespread the issue is which made me think ok kool maybe that was the right thing to do at first.
"@NME However using my face as a poster boy for it to sell your magazine is so foul and below the belt I will never respect you lot."
"The reason I'm so angry is because NME have been begging me to be on their cover. I have refused. Then they do this," Stormzy added.
"My issue is not about me speaking out about it. That is fine and I'm happy I'm able to help but [NME] have been very foul here."
Stormzy has previously spoken to Channel 4 News about depression - an interview which the NME covered on its website at the time.
Responding to Stormzy's tweets, editor Mike Williams said: "@Stormzy1 We were inspired by your words and wanted to use them as a springboard to talk about depression and how it shouldn't be taboo."
"Our only intention was to raise awareness of an issue that we've been inspired to talk about following your comments," Williams added.
---
Follow us on Facebook, on Twitter @BBCNewsEnts, or on Instagram at bbcnewsents. If you have a story suggestion email entertainment.news@bbc.co.uk.