Rothko Red play returns, this time on screen
By Steven McIntosh
Entertainment reporter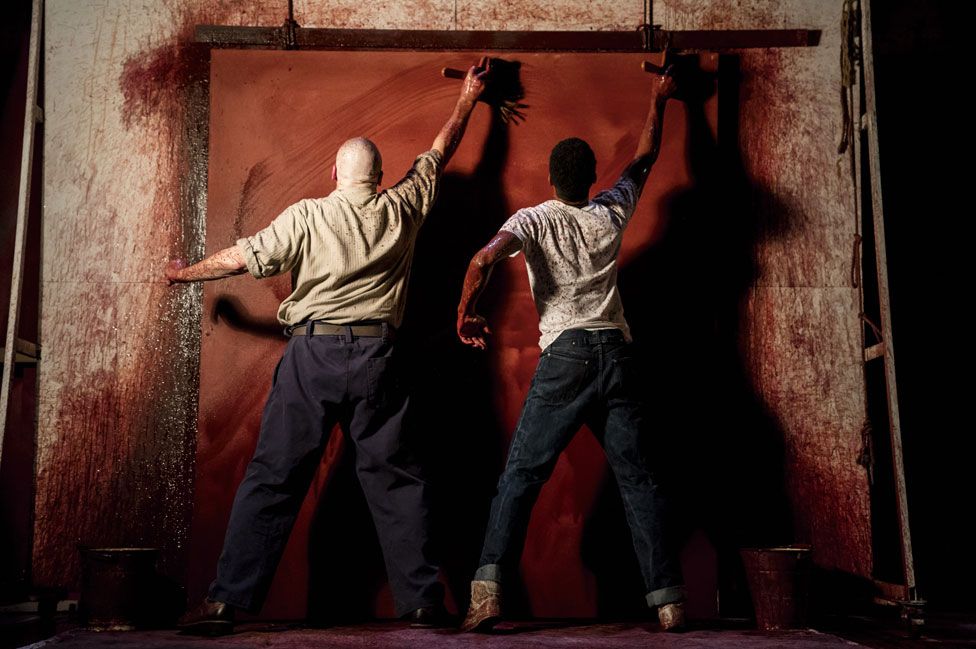 Harry Potter actor Alfred Enoch talks about playing Mark Rothko's assistant in Red, in cinemas this week following its acclaimed West End run.
Two actors. Two characters. One stage. One interval-free show. Copious amounts of red paint.
Those are the ingredients that make up Red, a play about US artist Mark Rothko which returned to the West End this summer, nearly a decade on from stints at London's Donmar Warehouse and on Broadway.
The recent production, a recording of which can be seen in cinemas across the UK on 7 November, saw Alfred Molina reprise his role as Rothko.
Instead of acting opposite Eddie Redmayne as he did in 2009, though, he had a new face on stage with him.
The role of Ken - Rothko's young assistant - was taken by Alfred Enoch, perhaps best known as Dean Thomas in seven of the eight Harry Potter films.
"It seems to be a play which speaks to the idea of mentors and mentees, teachers and pupils, fathers and sons," director Michael Grandage told the BBC earlier this year.
"It seems to be saying something that I've long believed in, but nobody ever talks about much, which is that the young person can give the older person in that relationship as much information as the [older person can to the young].
"I think when we talk about a mentor, we assume everything goes in one direction. This play rather brilliantly investigates the idea that when two people are in a room, one young and one old, both learn from each other."
It would be easy to assume Red is just a high-brow play about some nice paintings. But it has complexity at its core.
Set over the course of two years in the late 1950s, the play sees the relationship and dynamic between its two characters develop and change significantly.
The Sorkin-esque, quick-fire dialogue remains perhaps one of the most notable things about John Logan's script.
"For me, it's not so much the amount of dialogue, it's the speed of thought of the characters," said Enoch when we met.
"They think fast and they talk fast, and they can turn ideas on a sixpence. So it's a challenge just maintaining that mental energy, that nimbleness."
Added to which, there's a great deal of physical movement for a play entirely set in Rothko's studio.
"As much as it's this thrilling exchange between two bright people, it also shows you what it is physically to be an artist, to be in the studio, mixing paint, stretching the canvas, making a frame," Enoch said.
The actor admitted it was tricky to master the craft of being an artist, while having intense conversations at the same time.
"It was quite a lot to get the hang of because you're doing these two things at the same time. That's what these characters are capable of, they're fluent in both of them."
Molina said his main reason for returning to Red was "getting to work with a fantastic actor, in a beautiful theatre, and doing it in the West End - which was really a bit of unfinished business."
The actor, who has starred in such films Chocolat, An Education and Spider-Man 2, said the relationship at the core of the play was what originally attracted him to the show.
"These are very bright men who can talk and think very quickly, and they're not afraid of their thoughts. They don't think twice because they don't have to think twice," he said.
"They're so sure about what they believe and how they perceive things, and that's why there's this wonderful tension between them.
"It starts off with Rothko being a bit of a bully, telling Ken this is the way things are.
"Then of course the relationship changes and Ken starts to evolve and become his own person, and he then can challenge Rothko on his own terms."
Speaking near the end of Red's run in July, Molina promised audiences who see the play in cinemas would see "an accurate capture of the theatrical experience".
"The important thing to remember is we're not performing for the cameras," he told the BBC. "We're playing to the audience, full-throated with everything we do normally.
"The audience are not expecting to see a movie. They go because they want to have a similar experience to the audience seeing it live.
"But it has the added bonus that we will have a record of it. It'll be nice to see it again when we're all in our dotage, to stick in the DVD player if we still have DVDs then."
"For me it means we get to reach a bigger audience with a piece of work I couldn't be prouder of," said Enoch, who has since gone on to take over from Jodie Whittaker in BBC thriller Trust Me.
"The fact that people are going to see it in other countries, that people I know in the States will be able to watch it, is really exciting."
Molina admitted he would be "sad to see the play go" and that the recent run had felt like "a bit of an end of an era".
One thing neither actor will miss, though, is going home each night covered in red paint - an inevitable result of their characters' fast and furious brushwork.
"When you have a shower after it looks like you've got a head wound," said Enoch, who admitted he had "fallen flat on his ass" more than once while performing at the Wyndham's Theatre.
"My local pharmacy's going to see a real drop in soap sales," remarked Molina with a chuckle. "They're going to feel it back at the warehouse."
This is an updated version of an article that first ran in May 2018. A list of cinemas showing Red can be found here.
Related Internet Links
The BBC is not responsible for the content of external sites.