Joanne Clifton daunted by 'sexy' Flashdance role after Strictly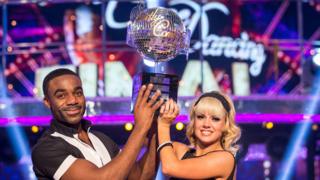 Strictly professional dancer Joanne Clifton has said leaving the show means she can chase her "childhood dream" of being on stage - but she's worried about having to be "sexy and serious" in her new role in the Flashdance musical.
"I was never the sexy one on Strictly - I was the relatable one," she says of her starring role in Flashdance as Alex Owens, who works as a welder by day and dancer in a bar by night.
She adds this will be a "challenge" - laughing when it's put to her that many would disagree.
"It's a role any girl dancer would want to do," she says. "It's such an iconic film. Coming from a dancing family, it's my dream role."
The producers asked her to audition for the part of the welder who dreams of being a dancer after seeing her as Millie - so she went out shopping in preparation.
"Before the audition I went out and bought leotards and shorts - I spent £140 on them. One hundred and forty pounds!"
That audition not only left her with the credit card bill but a bruised elbow and grazed knee. Asked how she's going to prepare for the show, she laughs and says: "With lots of sit ups and getting into shape."
Joanne, from Grimsby, is talking from a hotel room between shows - she is currently in a touring production of Thoroughly Modern Millie, playing the lead.
She admits it has been a "strange" two days, with the news of her departure from BBC One's Strictly Come Dancing followed by the announcement of her casting in Flashdance, based on the classic 80s film.
"Yesterday was weird - and of course I'm upset to be leaving Strictly," she says. "But to see people's reaction to Flashdance, all their messages, is really exciting. It's been overwhelming."
Some saw her decision to leave Strictly as a surprise, seeing as she lifted the show's glitterball trophy with BBC presenter Ore Oduba last year.
But, she says: "My goal has always been to get into musical theatre. It's a childhood dream of mine - I've always had it in my heart.
"I didn't expect to win last year but it was always one of my aims. So I feel I've now achieved everything I wanted to in ballroom dancing."
Joanne was previously partnered with Radio 1 DJ Scott Mills and astrologer Russell Grant on the show, as well as singer Harry Judd for the Christmas special.
"Strictly is the biggest and best show on TV, and I'm so grateful and honoured to have been a part of it. I love it so much," she says.
'My heart is in musical theatre'
She will dance on the show one last time when it returns in September, performing one of her winning routines with Ore - and admits it's a moment she doesn't want to think about yet, as she will be saying goodbye to her Strictly "family".
"It will be an emotional night and bring back so many memories," she says, adding that Ore is now an "amazing friend".
And it is a family in the literal sense too as her brother Kevin and his wife Karen are also professionals on the show.
Along with her parents, they were the first to be told about Joanne's "massive, massive decision".
She said when Kevin saw her on stage for the first time as Millie, after she made the decision to quit Strictly, "he got emotional".
"My family came to watch and while they'd seen me in a musical before, they'd never seen me in a big one like this.
"Afterwards, Kev said to me, 'as your big brother, I think you're making the right decision. Go for it,'.
"My heart is in musical theatre and he could see how much I loved it."
She's been taking acting and singing lessons as her new career requires her to do both, alongside dancing.
"I love it - I love all three," she says.
Being "fun and awkward" Millie is something the dancer says she loves, but she is looking forward to Flashdance rehearsals, which start in two weeks.
She will juggle this with the remaining dates of the Millie tour, before beginning a six-month stint on Flashdance in August.
After that, there are two more shows in the pipeline, with her sights set on the West End and film after that.
If she did so, she'd be following in the footsteps of her musical theatre idol Imelda Staunton, whose work in film, TV and theatre has won her countless awards, not least for Gypsy, which Joanne went to see five times.
Treading the boards means she will be too busy on Saturday nights to watch the next season of Strictly, but she adds: "I'll be watching it on catch-up as soon as I come off stage. And hopefully Kevin will do well!"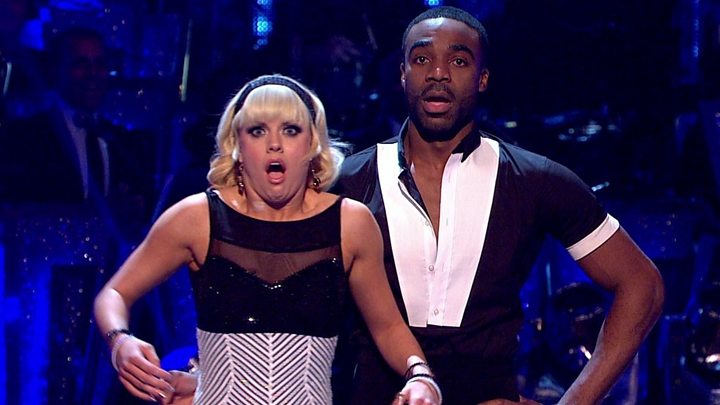 She recalls one of her favourite Strictly memories, when she and Kevin were both in the final last year - he was with partner Louise Redknapp - and their parents were sat in the front row.
And would she return? "Never say never," says Joanne, but then - possibly thinking about how busy her new career will be keeping her for the foreseeable future - adds with a smile: "But maybe not."
---
Follow us on Facebook, on Twitter @BBCNewsEnts, or on Instagram at bbcnewsents. If you have a story suggestion email entertainment.news@bbc.co.uk.