Paddington: Sharing childhood bears for Michael Bond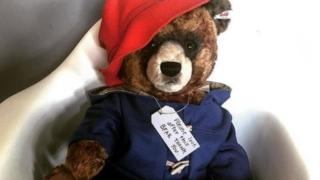 Book and bear lovers from around the world are posting their reaction online following the death of Paddington Bear creator Michael Bond.
The author passed away on Tuesday following a short illness, according to his publisher Harper Collins.
The first book about the marmalade-loving bear appeared in 1958.
There has been a flurry of tributes across social media, including people sharing many images of their childhood bears.
Alongside the picture of his daughter's teddy, above, James Stone posted on Twitter: "Safe Trip Michael Bond and thank you for Paddington".
Next to her picture Louise Marchal says: "Old, battered, a bit dusty & missing his hat but still a dear & treasured bear #Paddington. Thank you Michael Bond R.I.P."
Author and journalist David M. Barnett shared this picture and told the BBC that Paddington is the childhood toy of his wife, Claire.
Meanwhile, Flynn Bear posted this picture of Paddington being supported by fellow bears following his sad loss.
Among other national figures, Stephen Fry and Jeremy Clarkson posted their appreciation of Bond and his work to stress his kindliness, gentleness and charm.
Meanwhile, author Aaron Gillies posted: "Paddington Bear is a brilliant story about an immigrant trying to find a new home in a strange country. RIP Michael Bond you fantastic human"
And Leah Kreitzman, Director of External and International Affairs for the Mayor of London, quoted from the Paddington stories:"In London everyone is different, and that means anyone can fit in," adding: "RIP Michael Bond, and thank you 🐻💜"
And the final word goes to the well-loved bear: "Today is a very sad day. Michael Bond CBE will be missed by many".
By the BBC's UGC and Social News team