Saturday Kitchen: When live TV goes wrong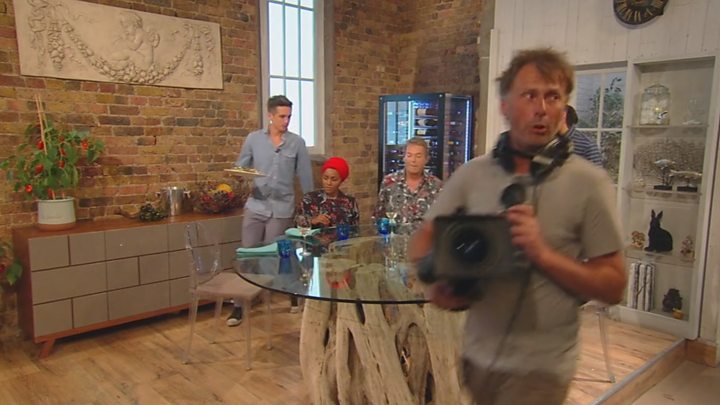 It all started so well.
Host Nadiya Hussain was charming, celebrity guest Julian Clary provided the jokes, and presenter Donal Skehan was preparing food for the live BBC cookery show Saturday Kitchen.
But then disaster struck.
Donal sliced his finger open and blood starting pouring onto the chopping board.
Viewers at home watched with sympathy and amusement at the unfolding scene.
"Wow! Donal Skehan is so professional! Cut finger on live TV and he cracks on!" said viewer Tania O'Donell on Twitter.
The presenter carried on cooking and chatting valiantly, until he seemed to realise quite how bad the cut was.
"Nothing like a bit of blood on a Saturday morning just to get you alive and kicking. I'm glad Julian is here to keep us going," he said, though some viewers remarked he had gone slightly pale.
Many sent their best wishes to Donal.
But just when everyone had recovered, things took another turn.
A cameraman strode confidently in front of the camera as guests gathered around a table behind him.
When alerted to his presence, he meekly put his hand to his mouth in surprise before sharply exiting the set.
"Loving the show today. Give the cameraman some of the food," one watcher said on Twitter.
The show was compared to domestic chaos in another BBC show.
"Reminds me of an episode of Fawlty Towers," said one viewer.
"My sides! My sides! Hope you're OK #Keepcalmandcarryon," another said.
The team at Saturday Kitchen took the whole thing well though.
"Thanks all our #saturdaykitchen viewers for their comments. This morning's show certainly proved we are LIVE!!" they tweeted.
By UGC & Social news