Toronto Film Festival: 13 films we're looking out for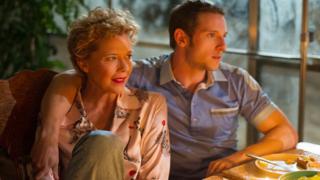 What plans do you have for March 2018?
If you're anything like us, you'll barely know what you're doing this weekend, let alone that far ahead in the calendar.
But in Hollywood, it's a different story.
Preparation for awards season has already started, with the Venice Film Festival in Italy and the Telluride Film Festival in Colorado taking the lead in identifying likely Oscar contenders.
Now it's Toronto's turn.
Hollywood is about to descend on the Canadian city to premiere the major releases that will dominate cinemas this winter - and, they hope, the Oscars next March.
Among the possible awards contenders showing at TIFF are First They Killed My Father, directed by Angelina Jolie; Breathe, directed by Andy Serkis; Film Stars Don't Die in Liverpool starring Annette Bening; and Roman J Israel, Esq starring Denzel Washington.
We couldn't possibly do justice to the 250+ feature films showing at the festival, which opens on Thursday and runs until 17 September.
Here, though, is everything you need to know about 13 of the highest-profile titles in this year's programme.
---
Downsizing
Where better to start than with a film about a man who literally shrinks himself in search of a better life
Matt Damon and Kristen Wiig play a couple who realise that a newly-discovered miniaturisation process could be a way to get rich
They figure that their financial problems might be solved if they could simply live in a mansion the size of a doll's house, because their money would go much further. What could go wrong?
Quite a lot, as it happens
The trailer doesn't give too much away but Downsizing has already attracted rave reviews after opening the Venice Film Festival last week
---
I, Tonya
Think Dancing On Ice but with a lot more drama and a lot less Phillip Schofield
Margot Robbie stars as controversial Olympic figure skater Tonya Harding, who was caught up in one of the biggest scandals in US sports history
In 1994, Tonya's main rival Nancy Kerrigan was attacked at an ice rink
It later transpired that people closely connected to Harding were behind the attack, and were trying to sabotage Kerrigan's career
No trailer for this one yet but it's safe to assume Margot's performance will be quite a departure from Harley Quinn in Suicide Squad
---
The Current War
Don't worry it's not actually a film about war
It stars Benedict Cumberbatch as electricity inventor Thomas Edison
If you like films about electrical currents then you're in luck
The Current War tells the story of Edison's battle with fellow electrical titan George Westinghouse over whose system was superior
No trailer yet for this one but we do have this nice promo pic of Benedict as Edison looking moody in a poorly-lit room
Maybe that's why he decided to invent the light bulb
---
Molly's Game
This one has been written and directed by Aaron Sorkin - best known for The West Wing, The Social Network and The Newsroom
Jessica Chastain and Idris Elba star - an on-screen combo we can't wait to see
It tells the real-life story of Molly Bloom, who set up an exclusive underground poker empire in the late 2000s
She built an A-list underground network made up of Hollywood film stars, hedge fund managers, and the Russian mob
(As you do)
It looks pretty gripping from the trailer
---
Borg/McEnroe
Stars Shia LeBeouf and Sverrir Gudnason as John McEnroe and Bjorn Borg respectively
A movie about a couple of people playing tennis in the 1980s might not sound like box office gold, but this film is seriously hot property at TIFF this year and has been selected to open the festival
The film tells the story of how McEnroe attempted to wrestle the Wimbledon crown from Borg (who had already won four times) at the men's final in 1980
It's more than just a film about balls and rackets though; it's about rivalry, the pressures of success, and two sports stars who feel imprisoned by their own careers
What do you mean I copied and pasted that sentence from the press release
The trailer has already had more than 1 million views
---
On Chesil Beach
You wouldn't necessarily think of a coastline near Weymouth as being the setting for a tragic love story (or potential Oscar contender) but here we are
This is the big-screen version of the 2007 Ian McEwan novel of the same name
The two main characters are Florence (Saoirse Ronan) and Edward (Billy Howle)
It's 1962 and they've just got married, but an argument breaks out as the prospect of their first sexual encounter looms
(This is pre-Beatlemania and the sexual revolution, remember)
No trailer, but we know the story is told through a series of flashbacks which make clear the couple's considerable differences
---
Battle of the Sexes
Flaming heck, there's a lot of films about sports stars around this year aren't there
Emma Stone stars as Billie Jean King in this one, while Steve Carell plays former tennis champion Bobby Riggs
The film is set in 1973, when King and Riggs are about to face each other in one of the most watched televised sports matches of all time
It looks like a lot of fun from the trailer
As the reigning best actress, could Emma bag a second nomination in as many years?
---
Suburbicon
Set in 1959, this one's about a family who live in what appears to be an idyllic suburban community... but which actually has an underbelly of betrayal, deceit and violence
Kind of like Desperate Housewives the movie? (Probably not)
Suburbicon isn't short on big names
For starters, Matt Damon, Julianne Moore and Oscar Isaac star in it
But it's also directed by George Clooney, who co-wrote it with Grant Heslov and the Coen Brothers
Anyway, it looks pretty dark, but also kinda funny, judging by the trailer
---
Gaga: Five Foot Two
Every pop star and their dog has had a documentary film made about them in the last five years
Now, Lady Gaga is joining Katy Perry, Justin Bieber and One Direction by releasing one of her own
Five Foot Two is directed by Chris Moukarbel and documents the recording and run-up to her fifth album Joanne
Pop fans don't need to book a trip to Toronto though, as the film will be released on Netflix later this month
Let's hope the film goes down better at Toronto than one Netflix film did at the Cannes Film Festival
From the teasers, this looks like a pretty candid and honest reflection of Gaga's life behind the scenes
---
Kings
In 1992, the acquittal of a white policeman charged with assaulting a black man, Rodney King, sparked mass riots in Los Angeles
Those riots are the setting of Kings, which sees Halle Berry playing a single mother living in a South Central neighbourhood
Daniel Craig plays a local recluse (who is also the only white man living in the area) who helps Millie bring her kids home to safety after the riots erupt
The film is likely to be seen as particularly resonant after the high-profile killing of several black citizens by US police officers in recent years
---
Super Size Me 2
This is the follow up to 2004's Super Size Me
That was probably kind of obvious from the title wasn't it
This time, instead of going on a fast food-only diet for a month, documentary maker Morgan Spurlock sets out to open his own chicken franchise
We're talking, like, the whole process - from raising poultry and conjuring recipes to designing the brand and scouting a location
It's not like junk food or society's obesity issues have disappeared since the first film, so this could be just as relevant (and hopefully as entertaining) as its predecessor
---
Stronger
Stronger tells the true story of a man caught in the Boston Marathon bombing of 2013
It's based on the memoir of Jeff Bauman, who lost his legs in the attack
He was the subject of a famous photograph that was taken in the aftermath of the bombing that day, when he was seen in a wheelchair being pushed by paramedics
Jake Gyllenhaal plays Bauman, who struggles to adjust to life after the attack
---
Mother!
Yeah, so this one looks pretty terrifying from the trailer
Seriously, we'll probably be hiding behind the person in front of us in the cinema
Jennifer Lawrence stars in this psychological thriller alongside Javier Bardem, Ed Harris and Michelle Pfeiffer
It's about a newlywed couple who are are threatened by the arrival of uninvited guests to the home they've just moved to
The few people who've seen it so far have described it as "dark, dark, dark, brilliant".
Oh god. Scared. Hold me.
---
Follow us on Facebook, on Twitter @BBCNewsEnts, or on Instagram at bbcnewsents. If you have a story suggestion email entertainment.news@bbc.co.uk.