Radio 3 to explore living with dementia in six-hour broadcast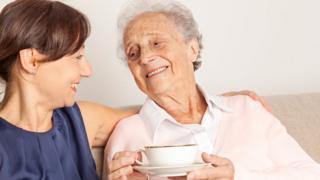 BBC Radio 3 is to broadcast a one-off, six-hour programme featuring the voices of people living with dementia.
The all-night programme, on 15 October, will blend their observations with music in an uninterrupted sequence.
"Dementia's the biggest killer in England and Wales. We wanted to give these people a voice," said Jessica Isaacs, head of Radio 3 production.
"Hearing their voices, without explanation, is a very powerful thing to do."
The broadcast will form part of a season exploring the links between music and memory.
Produced in conjunction with the Wellcome Collection, the season will also present the results of new research into dementia.
In addition, it will feature pianist Igor Levit attempting to perform Beethoven's Diabelli Variations from memory.
Radio 3 announced the programmes as it unveiled its autumn line-up, which sees several changes to the station's schedule.
Flagship arts programme In Tune will start half an hour later, at 17:00, creating extra space for afternoon concerts and opera in particular.
In Tune will be immediately followed by a new half-hour segment called In Tune Mixtape, featuring 30 continuous minutes of music without interruption from presenters.
The mixtapes will be available to download - "so if you want half an hour of music to take around with you in your pocket, on your phone, it will be available," said Radio 3 controller Alan Davey.
The station will continue to experiment with "slow radio" - long, laid-back broadcasts that aim to transport listeners out of their daily lives.
As well as the regular Sounds of the Earth programme, which features everything from birdsong to recordings of the Indonesian rainforest, the station has invited travel writer Horatio Clare to recreate an epic trek undertaken by Bach in 1705.
The composer braved the German winter to walk 500 miles from Arnstadt to Lubeck and back, simply to hear organist Dietrich Buxtehude play.
"Bach must have regarded his expedition as an adventure," explains Clare.
The trek, he says, saw the composer "following his own star across a swathe of northern Germany, over farmland, through mountains and forests, over the Elbe and all the way to Lubeck."
Clare's programme will feature the sounds of the natural landscape and the trudging of boots, interspersed with snatches of Bach's music and Clare's reflections on the journey.
Another "slow radio" show and podcast will follow the lives of monks at the Downside Monastery in Somerset.
Presenter changes
New shows include Choir and Organ - featuring, unsurprisingly, music for the choir and organ - presented by Sara Mohr-Pietsch.
And Sarah Walker will leave the weekday Essential Classics show to present her own Sunday morning programme.
"What I really want to do is create a listen that is relaxing without being soporific," said Walker, a doctor of music and pianist.
"Relaxing and congenial, but stimulating enough to make people feel diverted and entertained."
Suzy Klein will take over Walker's duties on Essential Classics. One presenter who isn't going anywhere though is Sean Rafferty, who celebrates 20 years as host of In Tune in September.
The autumn season will also mark the centenaries of the births of jazz greats Dizzie Gillespie, Buddy Rich and Thelonius Monk.
Sir Simon Rattle's inaugural season as music director of the London Symphony Orchestra, meanwhile, will be marked by 10 days of broadcasts from the Barbican Centre.
There will be a dramatisation of Anthony Burgess's cult novel A Clockwork Orange, featuring rarely-heard music written by the author himself, plus a concert marking the 30th anniversary of the death of cellist Jacqueline du Pre.
"I want Radio 3 to be an antidote to today's often frenzied world," said Davey as he launched the season at BBC Broadcasting House.
"We are a cultural powerhouse and a committed contributor to today's classical music and arts landscape."
Walker, meanwhile, extolled the virtues of slow radio, having immersed herself in a previous broadcast featuring a walk from Capel-y-ffin to Hay-on-Wye.
"By chance, I happened to have the day off that day and I was tired [because] I'd been very busy," she said.
"So I decided to treat myself to a day in bed listening to the radio. And the nice thing about the radio is it gave me permission to stay in bed.
"I was actually joining in with something. I wasn't retreating from the world. I was still connected through the radio."
Follow us on Facebook, on Twitter @BBCNewsEnts, or on Instagram at bbcnewsents. If you have a story suggestion email entertainment.news@bbc.co.uk.