Niall Horan: 'One Direction's first gig was a disaster'
By Mark Savage
BBC Music reporter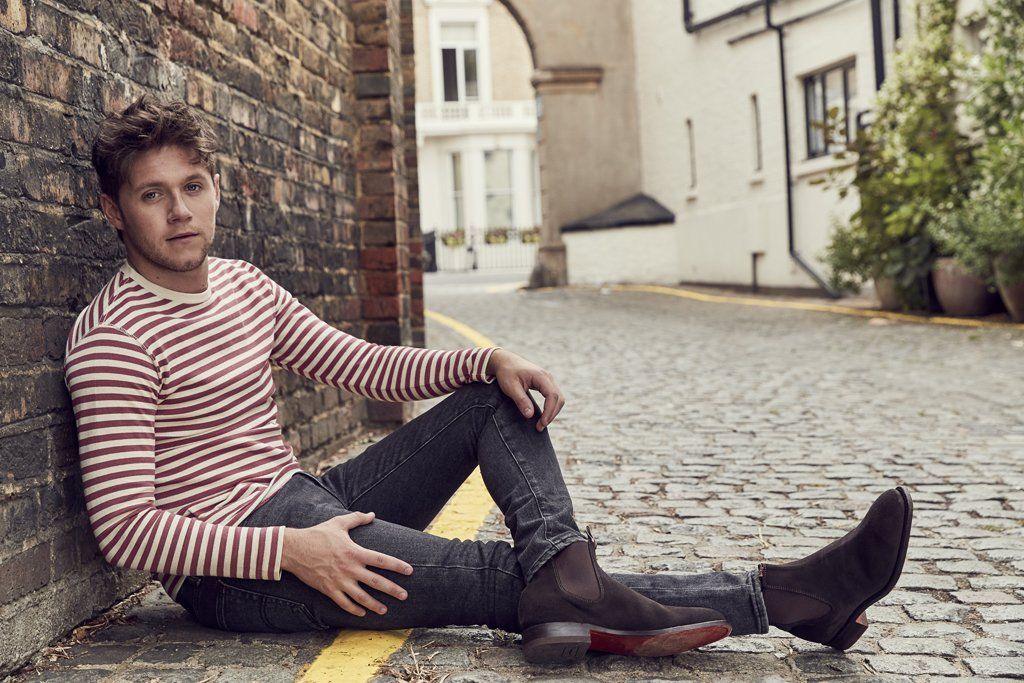 Whatever you do, don't ask Niall Horan about One Direction's concert debut.
"I never want to talk about that gig again," grimaces the star. "Worst night of my life. The worst One Direction show ever."
The band were less than a year old when they played the Watford Colosseum in December 2011. They'd just hit number one with What Makes You Beautiful but, despite weeks of live performance on the X Factor, they weren't quite prepared for the rigors of a full show.
"We've refused to talk about it ever since," says the 24-year-old. "It was a disaster. We were just a joke.
"Anything we rehearsed just went out the window. It was our first ever gig and we just didn't know what the [expletive] was going on."
Contrary to his memory, the show got a four star review in the Watford Observer, which praised the "tightness of the vocals"; and fan-shot footage captures a likeable, if ramshackle, trot through the band's first album.
"Yeah, there was a charm," admits Horan. "But the second gig was better."
Of course, One Direction went on to sell out stadiums around the world - but with the band on hiatus, Horan is back in smaller venues again, giving fans a preview of his acoustically-led debut album in a series of intimate gigs in the UK, US, Japan, Australia, Mexico and Europe.
"It's brilliant, especially with the type of music I'm doing," he says. "You feel like you're in someone's living room.
"With One Direction, we were doing five or six kilometres a night, running around the stage like lunatics.
"There's none of that now. I'll probably put on a bit of weight, standing still and playing guitar all the time!"
So far, the singer has released two solo singles - the folky coming-of-age tale This Town and the slyly funky Slow Hands - both of which highlight Horan's handsomely husky voice.
Crucially, they've made an impression outside One Direction's core fanbase. Slow Hands, in particular, stealthily became one of the songs of the summer.
"It's been out 15 or 16 weeks now and it's still creeping up the chart," says Horan when we meet in late August. "It's the fourth most-played song on US radio this week, which is just a joke."
It's a world away from One Direction's chart performance, where songs would typically make a strong debut then nosedive out of the Top 10.
"I think it's just the way streaming is these days," says Horan. "Before, you'd release a song and you'd know by the end of the week if it was going to be number one or not. Now, you have a chance to get a bit of longevity.
"I think it's much better. It gives people time to live with the tunes."
Horan was born in 1993 in the small Irish town of Mullingar. His mum soldered pewter, the town's main export, and his dad worked at the butcher's counter in Tesco.
His parents divorced when he was five and, after a period of shuttling between households, Horan moved in with his father.
With his dad working nights, he often had to do his own washing, ironing and cooking. In the mornings, he'd wake himself up and walk a mile-and-a-half to school.
Everything changed when he auditioned for the X Factor in 2010, at the age of 16. Dressed in a lumberjack shirt and brimming confidence ("I've been compared to Justin Bieber, and it's not a bad comparison"), he belted out a wobbly version of Ne-Yo's So Sick.
Despite negative comments from the judges, he squeaked through to the next round and was eventually incorporated into One Direction.
"After the first audition, I packed up everything in my life in a bag," he wrote in One Direction's book, Who We Are.
"I didn't realise at the time that, when I was stuffing clothes into the little suitcase, that was pretty much me leaving home for good."
For the next five years he was locked in a yearly cycle of recording, promoting and touring albums. At the BBC Music Awards in 2015, Horan confessed he'd only spent four nights in his own bed that year.
So by the time One Direction went on hiatus that December, he was more than ready for a break.
"I didn't really want to do anything at all," he says. "In my head, it was like, 'Jesus Christ, this is going to be brilliant, I can actually not work for a while'".
He booked an extended, open-ended holiday, backpacking with friends around South East Asia and hanging out in the Caribbean.
"I swear to God, I had no plan at all," he says. "I just wanted to get out and see the world from a different angle."
Along the way, he swam with sharks in the Bahamas ("they feel like sandpaper") and got into some typical tourist scrapes ("a monkey stole my wallet").
But then, unexpectedly, he got bored.
"It was a bit of a shock to the system," he admits. "I was sitting at home watching Jeremy Kyle every day and I was like, 'Get me out of here!'
"I just wanted to get back in the studio and write in some shape or form."
After revisiting the music of his childhood - Don Henley, Damien Rice, The Eagles - he's already written some basic ideas "on the backs of trucks and sitting on trains" in Asia.
The plan was to give them away to other artists, but then his manager heard This Town.
"He rang me and said, 'What are you doing? You need to make an album!'"
Encouraged, Horan signed a deal with legendary US label Capitol Records, much to the dismay of Simon Cowell, who publicly suggested the One Direction star had been "disloyal" by leaving his own company, Syco.
"Ah, listen, Simon's Simon," says Horan, equitably.
"Fair enough, at the time he might have been upset about it but do you know what? I sure he's walked straight over that bridge since and he's fine with it.
"He's a great guy and he's made our lives possible - so I'm forever grateful to him.
"I love Simon and he loves me... secretly."
Horan was convinced to leave Syco by Steve Barnett, a music executive who'd played a key role in launching One Direction in the US, and became the CEO of Capitol Records in 2012.
Their relationship and Capitol's heritage of nurturing singer-songwriters proved to be an unbeatable combination.
"When I signed, Steve showed me around the building," Horan recalls excitedly. "They've got all the original tapes of every Beach Boys song, every Frank Sinatra song, every Beatles song.
"You're walking down the corridor looking at all the pictures on the wall and it's incomprehensible, the artists that have gone through them halls down there."
For his own album, he's worked with music industry heavyweights Don Was (The Rolling Stones) and Tobias Jesso Jr (Adele), while seeking out new talent like country star Maren Morris, who appears on the soaring duet Seeing Blind - tentatively pencilled in as his fourth single.
Before that comes Too Much To Ask, which is out on Friday.
A delicate heartbreak ballad, it's bound to get gossip columnists dredging up Horan's ex-girlfriends Ellie Goulding and Selena Gomez - but, sipping a Starbucks in his plush hotel room, he doesn't seem too concerned about that side of fame. He just wants people to hear the record.
"I would obviously like it to go to number one, that would be the dream," he says. "But it is what it is.
"If it's getting a lot love and jumps in at number two or number three, I don't mind."
Too Much To Ask is out now. Niall Horan's debut album will be out later this year.
Related Internet Links
The BBC is not responsible for the content of external sites.