British Museum sorry for labelling row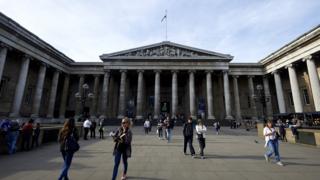 The British Museum has apologised after a tweet from one of its curators saw it accused of racism and dumbing down.
The row escalated after Jane Portal, from the London institution's Asia department, said "sometimes Asian names can be confusing" on exhibition labels.
"We have to be careful about using too many," she continued, prompting a string of critical tweets.
The museum later said in a statement: "We would like to apologise for any offence caused."
It added: "Jane was answering a very specific question about how we make the information on object labels accessible to a wider range of people."
Answering a question as part of the museum's #AskACurator initiative, Ms Portal said "we aim to be understandable by 16 year olds" and the length of the wording on information labels could be limiting.
"Dynasties & gods have different names in various Asian languages," she wrote. "We want to focus on the stories."
Her comments were described by one Twitter user, Dave Cochrane, as "a gigantic own goal", while Amanda Lillywhite wrote: "Don't blame the 16 year olds!"
"Confusing to whom?" asked Twitter user Jillian, while MrChaz asked her to "be a bit less racist".
Yet the museum keeper was not entirely friendless, with one Tweeter saying what she described "seems a perfectly sensible approach".
The museum's statement added: "Label text for any object is necessarily limited and we try to tell the object's story as well as include essential information about what it is and where it is from.
"We are not always able to reflect the complexity of different names for eg periods, rulers, gods in different languages and cultures on labels."
The gaffe is the latest in a number of embarrassing stories involving the museum, the UK's most popular visitor attraction.
Earlier this year it confirmed it had lost a diamond ring worth £750,000, while last year it emerged that a waiter working at the Museum had knocked the thumb off a priceless Roman sculpture.
According to the British Museum's website, Jane Portal started working there in 1987 as its curator of Chinese and Korean collections, and became Keeper of Asia in 2014.
Follow us on Facebook, on Twitter @BBCNewsEnts, or on Instagram at bbcnewsents. If you have a story suggestion email entertainment.news@bbc.co.uk.