Pearl Mackie leaps from Doctor Who to Harold Pinter
By Ian Youngs
Entertainment & arts reporter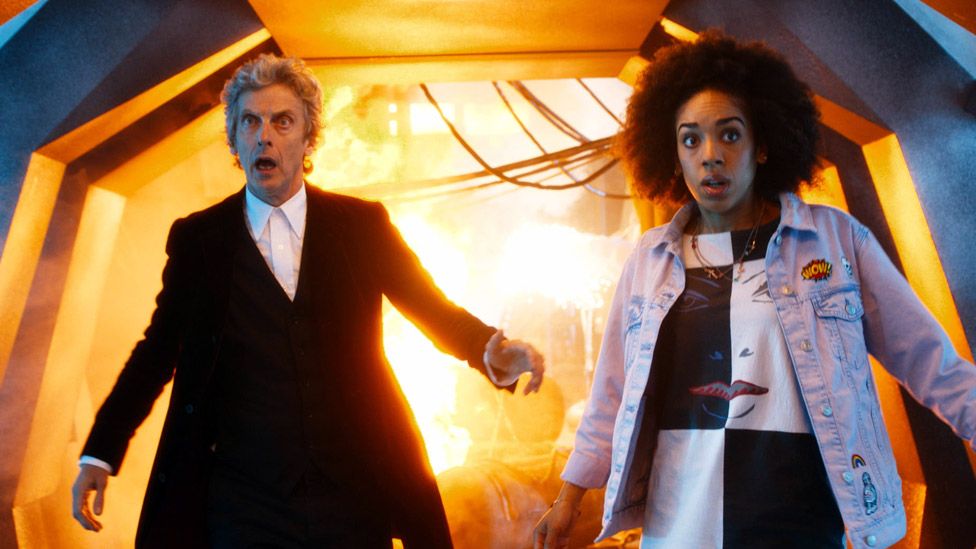 For her first role since travelling through time and space in Doctor Who, actress Pearl Mackie will jump back 60 years to appear in Harold Pinter's 1957 play The Birthday Party.
Mackie currently plays Doctor Who's companion Bill Potts, but will leave the show after the Christmas special.
Then, from January, she will be seen as Lulu in The Birthday Party.
She will appear alongside Toby Jones, Zoe Wanamaker and Stephen Mangan at the Harold Pinter Theatre in London.
The play will be directed by Ian Rickson and will run until April.
In an interview with BBC News, Mackie says she's been struggling with how the character - and the things she goes through - will fit with her own feminist ideals.
She also talks about her departure from Doctor Who, says she wants to tell more political stories in the future - and says Capaldi's successor Jodie Whittaker will be "phenomenal".
What attracted you to The Birthday Party?
It's a wonderful play. I've always loved Pinter and got to grips with it at drama school. Pinter's so brilliant. The text is so rich and there's so much that isn't said. His characters are so weird and hard to figure out.
The characters are very real while also being slightly surreal. Lulu is one of those - I don't quite know if she knows what she wants.
She's a young woman who lives in this seaside town a little way out of London. It doesn't say much about her background but she seems like she wants to escape the humdrum life that she has.
She gets very enamoured by one of these macabre visitors that come to the visiting house. Quite interesting things stem from that. The guy she becomes very enamoured with is Stephen Mangan, so it should be really fun to play around with that with him.
She wants to escape her humdrum life - are there any similarities with Bill?
It's a different kettle of fish. You have to look at the context of the play. It was written 60 years ago. When Ian [Rickson] and I discussed it, we said we'd like to explore the character with [us] both having modern feminist ideals.
You have to explore that and be true to the play as it was written. There are some quite dramatic things that she has to undergo.
It's very, very different, for her, wanting to escape than for Bill.
Did the things Lulu goes through give you pause for thought because they conflict with your modern feminist ideals?
Yes, definitely. I struggled with these incidents and how we portray it in a way that isn't giving it a seal of approval while also being true to the play. It's going to be really exciting to explore how we do that.
What types of roles have you been offered since leaving Doctor Who?
One of the incredible things about being part of such an incredible show as Doctor Who is it does open so many doors. The things that I've been looking at have been very wide ranging on many levels.
How has Doctor Who changed your life?
I don't think I've seen the full extent of how it's changed my life as yet. It's definitely changed my life in terms of career prospects, which is very good.
And I do get recognised more on the street now, which is also quite nice because people tend not to stop you if they don't like what you've done. That's very positive and everyone seems to have been very enthusiastic about Bill and the whole series, so it's been a wonderful experience.
One of the great things about Doctor Who is it doesn't really ever leave you. You're part of this incredible alumni for the rest of your life. It was such a wonderful opportunity and will always have a very special place in my heart.
Were you disappointed to find out you would be leaving?
Well, you know, that was quite early on - I knew that, really. But I was very excited to do this series and have this journey as Bill, and have this amazing relationship that Peter's Doctor and Bill had.
They had a very special chemistry and relationship, and while it's always interesting to add a different dynamic to that, it was wonderful to have been able to explore that for what it was.
What stories would you like to tell in the future?
Thought-provoking stories. Stories that are relevant in our political climate. Stories that are fantastical. But as long as the story grips you and makes you think, then that's the kind of story I'd like to tell.
What are your thoughts on Jodie Whittaker as Doctor Who?
I think she's going to be phenomenal.
Who would you like to see as a new companion?
No idea. There are so many actors. No-one thought it would have been me before I got the part.
Related Internet Links
The BBC is not responsible for the content of external sites.