Critics give warm welcome to Frozen musical pre-Broadway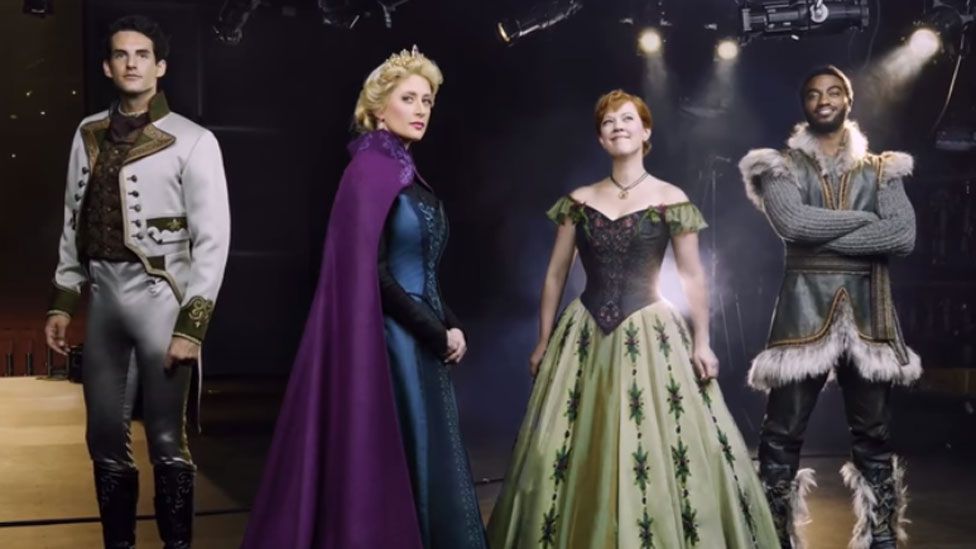 Do you want to build a snowman - again? According to reviews of a pre-Broadway staging of Disney's new musical Frozen, the answer is largely yes.
Based on the hit 2013 animated feature, the musical has opened in Denver ahead of its New York launch in February.
Directed by Britain's Michael Grandage, the show is a loose adaptation of Hans Christian Andersen's The Snow Queen.
And according to Variety critic Lisa Kennedy, the results are both "crisp and original".
"The musical's reported development budget of $25m [£18.3m] to $30m [£22m] has been well-spent," she writes.
"The creators have added heft and gravitas without making the story darker or scarier... [and] the ensemble sings beautifully."
Set in the fantasy northern realm of Arendelle, Frozen tells of two sisters whose relationship is tested when one reveals she has magical snow-creating powers.
The film won two Oscars in 2014 - one for best animated feature, and another for its stand-out song Let It Go.
The musical includes that and other songs from the original film - among them Do You Want to Build a Snowman? - while adding more than 10 new numbers.
Caissie Levy plays Elsa while Patti Murin plays her sibling Anna - who spends the show torn between dashing prince Hans (John Riddle) and ice seller Kristoff (Jelani Alladin).
"Charming characters, a built-in audience and hummable tunes make Frozen a no-brainer for Broadway," wrote Deborah Wilker in the Hollywood Reporter.
In her opinion, though, the show could do with "a little less gravitas" - and she also questioned the way Olaf the Snowman was portrayed by a puppet attached to an actor's body.
"Best to put an actor inside a costume or a true puppeteer in the rafter," she suggests. "Pick one."
Writing in the Chicago Tribune, Chris Jones called the production "very cautious and emotionally underwhelming".
"Grandage's production takes no bold leaps... nor are there significant narrative shifts," he went on, saying the show "should be - and could be - a whole lot better".
"Sometimes charming, sometimes awesome, sometimes lumbering," was the verdict of the New York Times' Jesse Green.
"Already much is right: the supporting cast is charming, the singing spectacular, the simpler effects... successful.
"But, like Wicked before it, Frozen is going to have to figure how to make the dark character less of a bore and the light character more compelling."
Frozen: The Musical runs at Denver's Center for the Performing Arts until 1 October. It will then run at the St James Theatre in New York from 22 February.
Related Internet Links
The BBC is not responsible for the content of external sites.