The Stage Debut Awards: Meet theatre's hottest new stars
By Steven McIntosh
Entertainment reporter at the Stage Debut Awards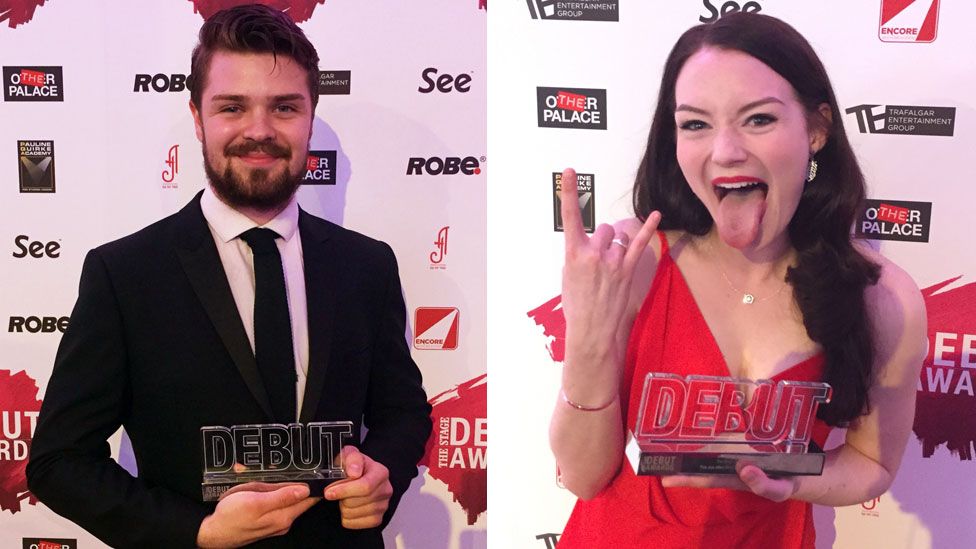 The first ever Stage Debut Awards took place on Sunday - recognising new talent in the British theatre industry.
Amber Riley and John Boyega were both nominated for one of the night's top prizes, but lost out to the lead actor in Bat Out of Hell.
Andrew Polec, the star of the Meat Loaf musical, took home the prize for best West End debut.
His co-star Christina Bennington, who accepted the prize, said he would be "thrilled and delighted" to have won.
It was the only award of the night to be voted for by the public.
"This category was absolutely ridiculous, and it just goes to show that Bat Out of Hell has the best fans in the world," Bennington told the BBC.
Other winners included Grace Moloney, who won best actress in a play for her performance in The Country Girls at the Minerva Theatre in Chichester.
She said: "As soon as I heard they were doing an awards ceremony for debut performances, I thought, this is what everyone needs at drama school, it's what you need to realise that young people are appreciated and being recognised, because the industry can feel like a brick wall that you're not going to break through."
Abraham Popoola won best actor in a play for Othello at Tobacco Factory Theatres in Bristol.
He said the fact that some of the top prizes of the night had gone to productions outside of London was "a sign that regional theatre is alive and well and doing great work".
Samuel Thomas, who won best actor in a musical for his performance in Allegro, described his reaction to winning simply as: "Shock".
He added: "The other lads nominated in my category were all worthy of this, but obviously I feel absolute pride, excitement and honour."
Dreamgirls star Adam J Bernard says fans often turn up crying at the stage door because of the emotional connection they feel with the show pic.twitter.com/DD8ShNOFN6

— BBC News Ents Team (@BBCNewsEnts) September 17, 2017
Speaking about Allegro, he said: "Most people would describe it as Rogers & Hammerstein's failure, I would actually describe it as one of their successes.
"It revolutionised the form of musical theatre and tilted the axis of what musical theatre is all about - that it doesn't have to be a big showy thing, it can be a very contained, integral, actor-driven and character-driven piece of theatre."
Miriam-Teak Lee, who won best actress in a musical for On The Town, said: "You don't think of awards as being given to new people, but this is such an amazing platform."
Here's a round-up of the other winners and photos from the red carpet:
Best actor in a play: Abraham Popoola for Othello at Tobacco Factory Theatres, Bristol
Best actress in a play: Grace Molony for The Country Girls at the Minerva Theatre, Chichester
Best actor in a musical: Samuel Thomas for Allegro at Southwark Playhouse, London
Best actress in a musical: Miriam-Teak Lee for On the Town at Regent's Park Open Air Theatre, London
Best director: Lekan Lawal for Betrayal at Derby Theatre, Derby
Best designer: Rosie Elnile for The Convert at the Gate Theatre, London
Best composer: Dan Gillespie Sells for Everybody's Talking About Jamie at the Crucible Theatre, Sheffield
Best writer: Katherine Soper for Wish List at the Royal Exchange, Manchester
The best West End debut: Andrew Polec for Bat Out of Hell at the London Coliseum