Noma Dumezweni on Harry Potter and the Cursed Child's next steps
By Steven McIntosh
Entertainment reporter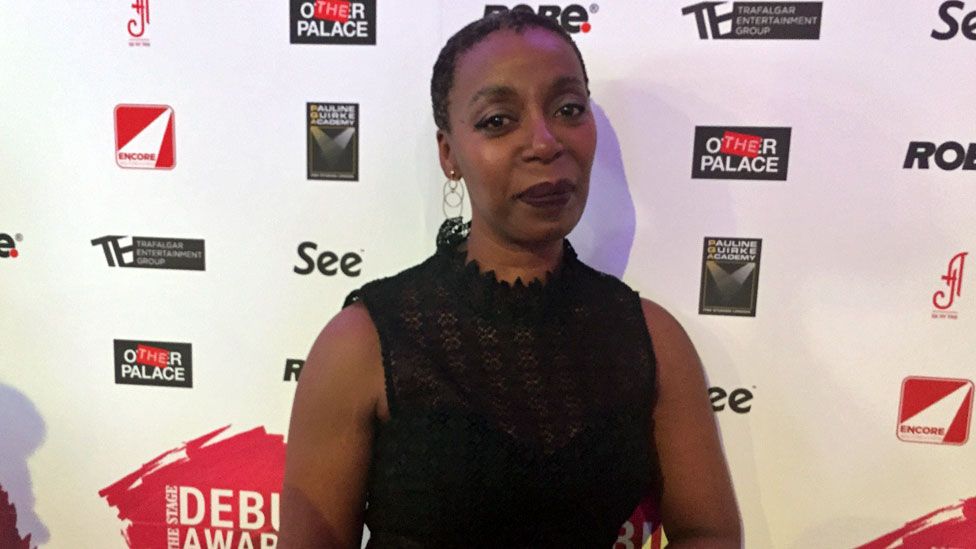 Harry Potter and the Cursed Child is gearing up to transfer to Broadway after a hugely successful run in London's West End.
Noma Dumezweni, who played Hermione in the original London production, is among the original cast members set to reprise her role across the Atlantic from March.
The actress attended The Stage Debut Awards on Sunday and told BBC News that one of the aspects of Cursed Child she's most proud of is bringing theatre to a new audience.
"What I understood for London was that 60 or 65% of the audience were first-time theatregoers, because of those [Harry Potter] books," she said.
"And you go, OK, you've read the books, seen the films, and now I love that it's in script form - all those people with scripts of the Cursed Child will now go and play those parts in their garden.
"It's now there to create your version. So the through line is huge."
Noma added that her 10-year-old daughter's enthusiasm for Harry Potter reassured her of the franchise's enduring popularity.
"To go to the theatre, with that percentage of people being first-time theatregoers, that's phenomenal, it's quite special and I'm part of it."
The actress said she has "no idea" whether changes will be made to the show ahead of its Broadway transfer, but added: "I'm so excited for it."
Along with several members of the principal cast, Noma has now left the London production before she reprises her role in the US from March 2018.
"I went to see the new [London] cast, with Rakie Ayola playing Hermione, and I loved it," the actress said.
"I went, 'Oh my God they're doing their own thing', and within that there were little changes, and I thought, yes, that makes sense.
"And I said to Rakie, 'I'm totally stealing some of your stuff, because I really enjoy what you do'. But that's the highest compliment I can give her, as an actress to another actress, I love what she did."
Noma added that she may well make some changes of her own when she returns to the role next year.
"Hopefully there'll be room for us to expand. The first time I was at the Royal Shakespeare Company was to do The Winter's Tale, and I came back to it nine months later.
"And because of the world you've lived in for those nine months, it adds another texture, another way of thinking to what you've already got.
"I came back nine months later and felt, 'Woah, I've grown', so I'm looking forward to the growing of my Hermione when we do Broadway."
The actress was speaking to the BBC at the first ever Stage Debut Awards, which was also attended by her fellow cast member Anthony Boyle. But she pointed out that such an event is "not just about young people".
"We're all doing our thing, we all started somewhere," she said.
"I did fringe theatre for so many years, and then I got my first play at the RSC, which was an amazing feeling, but I was 30 and had started acting in my early twenties.
"I have been that actor who's watched peers and thought 'God, they're doing well, I'll never get there.
"For me, you could say my big West End debut was Cursed Child, but I'm in my 40s, and it's like, when is that beginning? To acknowledge the beginnings of people is a beautiful thing."
She added: "I want the Stage Debut Awards to still be here in 20 years seeing how it goes.
"You've got so many people doing so many different things, and it's not just London-centric. It's looking around the country and saying, 'We are seeing you', and I'm really excited that this has begun."