Emmys 2017: Reese Witherspoon hails 'incredible year' for women on TV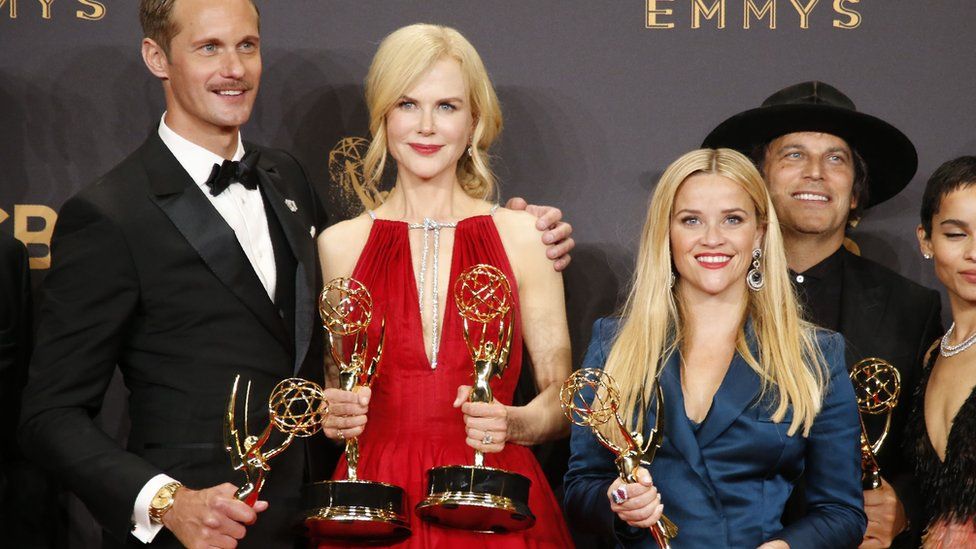 One of the reasons this year's Emmys stood out was for its celebration of strong female characters and actors.
Big Little Lies and The Handmaid's Tale - two dramas led by exceptional actresses - got five Emmys apiece.
Reese Witherspoon, who produced and starred in Big Little Lies with Nicole Kidman, said: "It's been an incredible year for women on television."
Kidman, who won an acting award for her work on the show, added: "So now, more roles for women, please!"
Big Little Lies featured an all-star cast that also included Laura Dern, who was named best supporting actress in a limited series.
Shailene Woodley and Zoe Kravitz also appeared in the HBO mini-series, which ran on Sky Atlantic in the UK.
Accepting the best limited series award, Witherspoon called on TV executives to "bring women to the front of their own stories and make them the hero of their own stories".
She added: "Thank you for that opportunity and for audiences to wrap their arms around us."
Kidman referred to her friendship with Witherspoon, telling the audience: "This is a friendship that then created opportunities. It created opportunities out of our frustration because we weren't getting offered great roles."
Like Big Little Lies, The Handmaid's Tale won five awards in total.
Elisabeth Moss, who won best actress in a drama series for playing sex slave Offred in The Handmaid's Tale, said it was important for stories to be led by and made by women.
She said: "It's my bread and butter, it's what I'm most interested in as a woman, shows that are about women.
"It's what I like to watch. And it's apparently quite obvious that it's what the audiences like to see."
Moss also said there's "still a lot of work to be done", adding: "There are still meetings you walk into and you wonder if they say 'no' because it's a show or film led by a woman."
The production made an effort to have women behind as well as in front of the camera, she added - with one of the show's awards going to Reed Morano for outstanding directing in a drama series.
Morano's work on the series led to her being hired to direct The Rhythm Section, a movie thriller starring Gossip Girl's Blake Lively.
In other awards, Lena Waithe became the first African-American woman to win for comedy writing for Master of None, sharing the prize with the show's star Aziz Ansari.
"Thank you for embracing a little Indian boy from South Carolina," she said in her acceptance speech, "and a little queer black girl from the south side of Chicago. We appreciate it more than you could ever know."
Julia Louis-Dreyfus won best actress in a comedy series for Veep for a record sixth year in a row. Asked whether the evening's many wins for women indicated a progress in the entertainment industry, she replied: "God, I hope so.
"Let's hope this is the beginning of something even better in our country and in the world, because I think the world would be a better place if more women were in charge."
Turning to Veep showrunner David Mandel, she added: "No offence, Dave."
At which point, he shot back: "You're in charge! You're my boss!"