Elisabeth Moss had a secret message 'to the patriarchy' in her Emmys outfit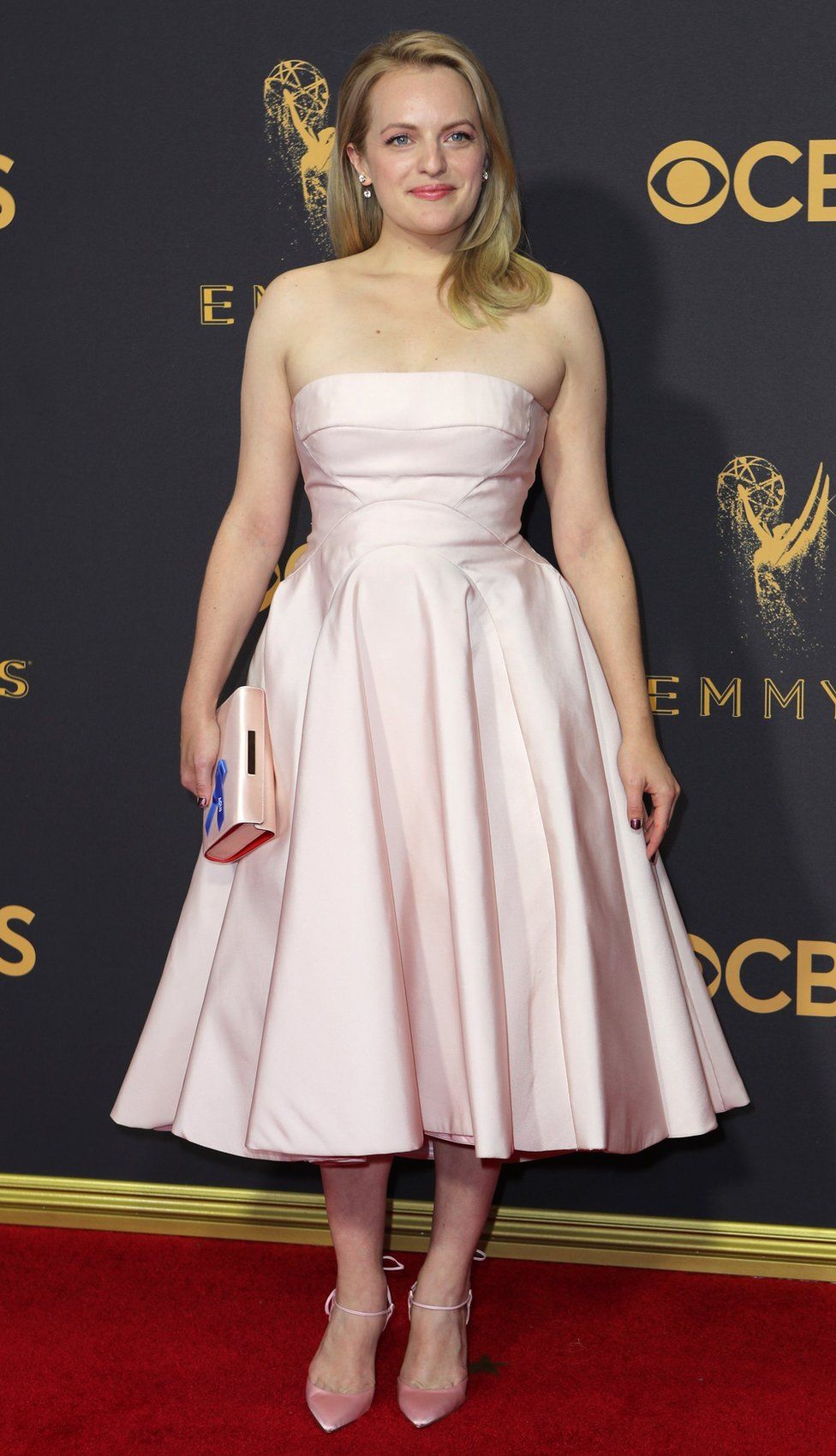 Elisabeth Moss's stylist has revealed there was a hidden message "to the patriarchy" in the actress's Emmy Awards outfit.
Moss won best actress in a drama series for The Handmaid's Tale on Sunday.
But what no-one noticed was the message written on the bottom of her shoes.
That's partly a reference to the dystopian drama for which Moss won her award, in which handmaids are slaves forced to bear children for powerful families.
They are given names combining "Of" with the first name of their male custodian - so the name of Moss's character is Offred.
But most people have assumed the other shoe may have borne a word to send a message to a real-world patriarchy in Hollywood and beyond.
Speaking after her win, she said it was important for stories to be led by and made by women.
"It's my bread and butter, it's what I'm most interested in as a woman, shows that are about women," she said.
Moss also said there's "still a lot of work to be done", adding: "There are still meetings you walk into and you wonder if they say 'no' because it's a show or film led by a woman."
Moss paired the customised Olgana Paris heels with a pale pink Prabal Gurung gown.
She also used the awards ceremony to send a more overt message to two women - firstly her mother, whom she credited in her acceptance speech with being "brave and strong and smart".
Then the actress posted a message to author Margaret Atwood, whose 1985 novel The Handmaid's Tale was adapted for TV.
Moss wrote: "She has provided a voice to so many who could not use their own, she has given us her heart and soul as readers, she has asked us to wake up and not only look around but to act and resist.
"She is a champion, a heroine, a rebel, and a fighter for freedom and equality."
Meanwhile, hot on those heels, it was reported that Moss has signed to star in a film about an underground suburban network of women who provided safe abortions in the 1960s.
The actress will play a married Chicago woman who becomes pregnant in Call Jane, based on the true story of a 1960s movement called the Jane Collective, according to The Hollywood Reporter.