Nadiya Hussain opens up about her panic disorder 'monster'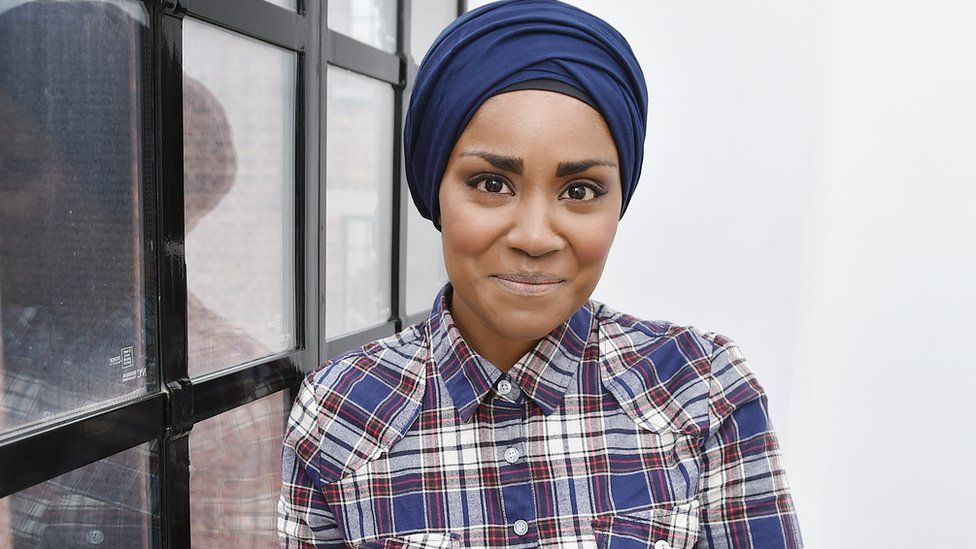 Nadiya Hussain has spoken about her constant struggle with a panic disorder, saying her "whole life revolves around not falling apart".
Speaking on John Bishop's TV show, the former Bake Off winner described her condition as "a monster".
And she said she hadn't become "a new woman" since shooting to fame in 2015.
"Some days the monster shouts in my face. No matter where I turn, he will keep shouting at me. I can't get him out of my face," she said.
"Other days, he's behind me and he'll tap me on the shoulder a little bit here and there through the day and I can ignore him completely.
"Other days I can put him in my pocket. He's always there."
Hussain, who is currently hosting BBC Two programme The Big Family Cooking Showdown, said she didn't want to take medication to ease the problem.
"I've spent my whole life trying to find a cure," she said. "You'll go to the doctors and they will give you pills and then you just won't feel anything. What's the point in not feeling anything?
"It's never going to go away, I have to learn to live with my monster. He's always going to be there."
She said her struggles have not eased since winning Bake Off in 2015 - which led to a new career fronting culinary TV shows and publishing recipe books.
Her television programmes have included The Chronicles of Nadiya and Nadiya's British Food Adventure.
"I don't feel like I'm a different person," she said. "I'm not a new woman. I've not suddenly become this confident person that can speak and isn't scared.
"Nobody lives their whole life without being scared... And the one thing I've learnt about panic disorder and about my monster is that my monster would love for me to be scared and say 'no' to everything.
"Every time I'm faced with something that scares the living daylights out of me, I have to say 'yes' to it.
"Because if I say 'yes' to it, then I will come out on the other side of fear and then I can put my monster in my pocket."
Hussain was being interviewed by Bishop on his In Conversation With series, which will be broadcast on the W channel in the UK on Thursday.
Related Internet Links
The BBC is not responsible for the content of external sites.