Seen a gig recently? You're not the only one
By Mark Savage
BBC Music reporter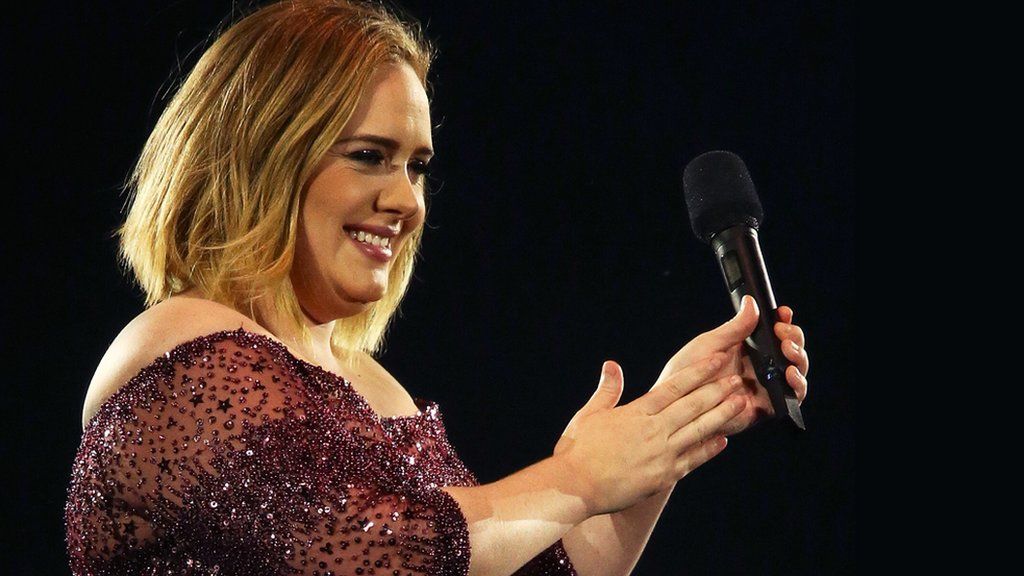 Live music now accounts for almost 25% of UK music industry revenues, new figures reveal.
Concerts brought in £1 billion in 2016, over £300 million more than recorded music - which includes sales of CDs, vinyl, downloads and streaming.
In total, 30.9 million tickets were sold for concerts and festivals in 2016, up from 27.7 million in 2015.
But UK Music warned that the closure of small venues posed a threat to up-and-coming artists.
"Live music did have another great year," said CEO Michael Dugher.
"But future talent will never get the chance to shine if we continue to see cuts in music in schools and closures in venues where artists need to learn their craft in the first place."
He also repeated calls for artists to be fairly compensated for their music - singling out media giants YouTube and Facebook for criticism.
"Unlike the subscription services, those platforms often offer little adequate reward to the investors and creators of the 'content' - i.e. the music - that drives so much of their traffic," he said.
The report noted that YouTube was the most popular way to consume music in the UK, with 31% of the population using it at least once a week.
The company recently defended its royalty rates, claiming it pays around $3 (£2.20) for every 1,000 ad-supported streams in the US.
Despite the ongoing battle over royalties, the Measuring Music 2017 report showed that the UK music industry grew across almost every sector last year, with the industry generating £4.4 billion.
The success of British acts including Ed Sheeran, Adele, Coldplay, Skepta and the Rolling Stones helped exports soar by 13% to £2.5 billion.
Streaming meant that the value of recorded music grew by 5% - the first time the sector has recorded growth since UK Music started measuring figures five years ago.
The value of live music was up 14% year-on-year, thanks to major tours by Adele, Little Mix and The 1975; as well as the continued popularity of festivals.
The report also revealed the results of a survey on the music industry's views on Brexit.
Half of those surveyed thought leaving the EU would have a negative impact on their career; while only 2% thought they would benefit from the changes.
Almost one in five (19.5%) believed Brexit would have no impact, while 28% responded that they did not know.
Related Internet Links
The BBC is not responsible for the content of external sites.